AIRIE:"Passages at the Nest" Exhibition Opening
Saturday, 01/28/2023-, 01:00 pm-02:00 pm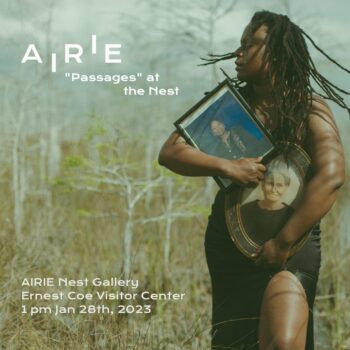 AIRIE Nest Gallery in the Ernest F. Coe Visitors Center
40001 State Hwy 9336,
Homestead, Florida, 33034
Website
Cost: Free
Join us at 1 pm on January 28th for the opening of AIRIE's exhibition Passages at the Nest Gallery, curated by AIRIE Creative Director and 2022 AIRIE fellow Cornelius Tulloch. Presented by Build McKenzie and in sponsorship with Friends of the Everglades, this gallery exhibition of physical works and film reveals connections that our 2022 AIRIE fellows found or created in the Everglades and celebrates stories of this natural landscape. Through these passages, artists have created a sense of purpose, place, and lineage. In addition to Tulloch, participating artists include Arsimmer McCoy, Francisco Masó, Kunya Rowley, Lola Flash, M. Carmen Lane, and Ania Freer. Germane Barnes will also share about his recent AIRIE residency experience.
There will be a champagne reception at the gallery with light refreshments preceding a discussion with participating AIRIE artists in conversation with Dejha Carrington of Commissioner.
All are welcome and admission is free!
Located in the AIRIE Nest Gallery in the Ernest F. Coe Visitors Center in Everglades National Park
40001 State Highway 9336, Homestead, FL 33034