Jazz For Tomorrow Student Stage – South Beach Jazz Festival
Saturday, 01/07/2023-, 10:00 am-05:00 pm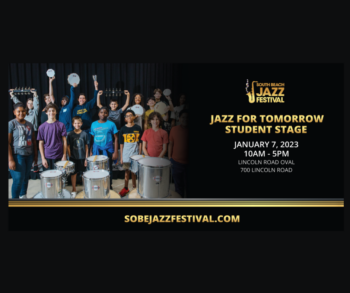 700 Lincoln Road
700 Lincoln Road,
Miami Beach, Florida, 33139
Website
Cost: FREE
The South Beach Jazz Festival serves as a showcase for the next generation of Jazz talent at the Jazz for Tomorrow Student Stage curated by the talented Jazz educator and artist Nicole Yarling on Saturday, January 7th from 10:00 am – 5:00 pm.
This exciting program features:
"Jazz For Tomorrow Student Stage "
Coffee, Talk, and Q&A with veteran composer, producer and performer, Bill Pettaway Jr. moderated by Zach Larmer, Young Musicians Unite.
Kiddos Master Class – South Florida Center for Percussive Arts with Brandon Cruz
Broward College Jazz Combo
JECC Jazz Bootcamp Ensemble (Jazz Education Community Coalition)
FASE – Frost Alternative String Ensemble with special guest Power Access Scholarship winner Eva Carizza.
Young Musicians Unite Jazz Collective with special guest Power Access Scholarship winner, Jeremiah Martial
Power Access scholarship winners Eva Carizza and Jeremiah Martial
The South Beach Jazz Festival takes place in multiple venues throughout South Beach on Janury 5-8, 2023. The mission of disability awareness is projected through a festival that takes pride in presenting world-renowned musicians from the entire spectrum of jazz including traditional, contemporary, and Latin American cutting edge acts. Many of the performances are free and open to the public and outdoors. The sounds of Jazz enliven the city all weekend long and draw residents and tourists to listen, learn and celebrate accessibility and inclusion for persons with disabilities.