The Biltmore Hotel Miami Presents "Expect Excellence" Wine Dinner With Paul Hobbs Winery
Wednesday, 12/14/2022-, 06:30 pm-10:00 pm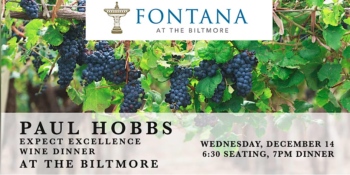 The Biltmore Hotel
1200 Anastasia Avenue Fontana Courtyard,
Coral Gables, Florida, 33134
Eventbrite
Cost: $215.82 (that includes taxes). Members may apply discount
The Biltmore Hotel invites wine enthusiasts and foodies to savor an outstanding selection of wines from Paul Hobbs Winery, which will be presented at the hotel's elegant Fontana Restaurant. Guests get to enjoy saporous wines born from the most distinctive sites in the Russian River Valley, Sonoma Coast, and Napa Valley. In 1991, pioneering winemaker Paul Hobbs established his namesake winery in Sebastopol, California. The winery exemplifies his vision and dedication to sustainability and his on-going quest to refine the art of winemaking with minimal intervention and meticulous care.
The Biltmore's Chef Vladimir Blanes presents a culinary experience and pairing that will meld each bite perfectly with every distinct wine presented by Paul Hobbs Winery.
Members and guests are invited to "expect excellence," a provocative experience that highlights Paul Hobbs' wines and their unique scent and flavors, combined with a unique culinary journey that can only be enjoyed at the Biltmore's Fontana.
Pricing for the wine dinner is $215.82 (that includes taxes). Members may apply discount. For more information or to reserve, visit: https://BiltmorePaulHobbsWineDinner.eventbrite.com/?aff=PR
Guests must be at least 21 years of age to enjoy this offering. Reservations required. Written cancellations must be received 72 hours prior to the event to receive a full refund.