Casino @ Dania Beach 'Be a Rockstar Costume Contest'
Friday, 10/28/2022-, 08:00 pm-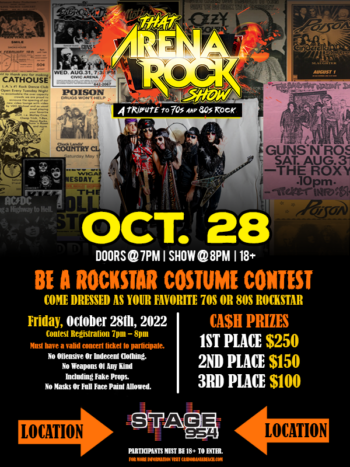 Stage 954 at Casino @ Dania Beach
301 E Dania Beach Blvd,
Dania Beach, Florida, 33004
Website
Cost: $20-$25
Participants will have a chance to unleash their inner rockstar by dressing up as any favorite 70s or 80s rockstar icon and take home cash prizes of up to $250.
Registration for Be a Rockstar Costume Contest will be held on the same night of the contest from 7 p.m. to 8 p.m.
CASH PRIZES:
1st Place Winners receive $250 cash prize.
2nd Place Winners receive $150 cash prize.
3rd Place Winners receive $100 cash prize.
All participants must be 18+ and bring a valid concert ticket to compete. No sharp objects on costumes or props, lewd or offensive costumes and real weapons are strictly prohibited. For more information, visit casinodaniabeach.com/.