NIU Brickell Flagship Store Grand Opening
Thursday, 07/28/2022-, 06:00 pm-09:00 pm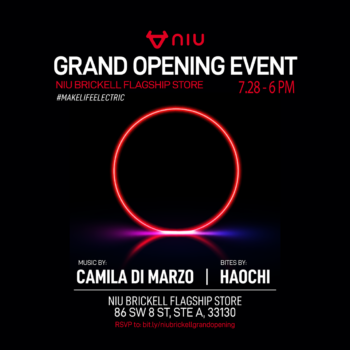 NIU Brickell
86 SW 8th St, Retail Suite A,
Miami, Florida, 33130
RSVP / Register
Cost: Free
Requiring social distancing? NO
Requiring masks? NO
Providing hand sanitizer? NO
NIU Florida is riding into to Miami.
Following retail openings in Jacksonville and Fort Lauderdale, the world's leading lithium-powered electric two-wheeler company pioneering sustainable micro-mobility is proud to announce the launch of its Brickell Flagship Store.
You're invited to #MakeLifeElectric at the Grand Opening. Join the celebration at 86 SW 8th St, Retail Suite A on Thursday, July 28 from 6 to 9 PM to learn more about the NIU way of life. Enjoy complimentary light drinks and hors d'oeuvres, a live DJ, as well as a beautiful mural from Miami artist @falopapas for your viewing pleasure.
NIU Florida is also holding a special Grand Opening sale. Rare discounts can be had on the entire product line, including $300 off electric mopeds, 20% off electric bikes, 15% off kick scooters, and 25% off accessories. Financing is available on all products with payment plans up to 48 months.