Sweet Liberty Celebrates The Life of John Lermayer. Tuesday
Tuesday, 06/21/2022-06/22/2022, 05:00 pm-05:00 am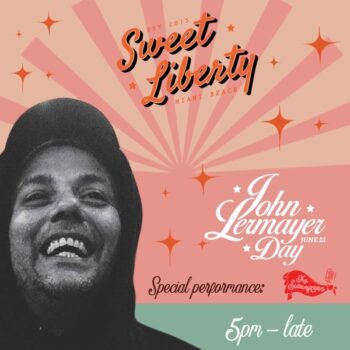 Sweet Liberty Drinks and Supply Co.
237-B 20th Street,
Miami Beach, Florida, 33139
Website
Cost:
Requiring social distancing? NO REPLY
Requiring masks? NO REPLY
Providing hand sanitizer? NO REPLY
In honor of the late, great, award-winning bartender John Lermayer, Sweet Liberty will be celebrating his ever-lasting name, inviting EVERYONE to join on Tuesday, June 21st. Beginning at 5pm, Sweet Liberty will play host to a rotation of world-renowned bartenders to take over Sweet Liberty's bar for the evening. Welcoming: Derek Brown, Jackson Cannon, Michael Parish, Borys Saciuk, Sean Kenyon, Jake Burger, Chris Bostick, Ben Sprouse, Christine Wiseman, Masa, Nacho and Eric Job with a special performance by The Swayzees @ 10PM.
Cocktails will include Sound & Furry made with bourbon, pineapple gomme and spiced maple syrup and Hot Mess made with tequila, lime juice, agave nectar, Cholula and grapefruit soda.