Global Wellness Day at Carillon Miami Wellness Resort
Saturday, 06/11/2022-, 10:00 am-12:00 pm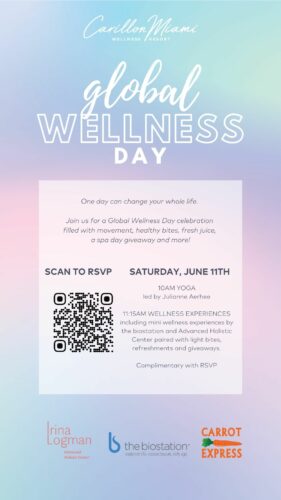 Carillon Miami Wellness Resort
6800 Collins Avenue,
Miami Beach, Florida, 33141
RSVP / Register
Cost: Free
Requiring social distancing? NO
Requiring masks? NO
Providing hand sanitizer? NO
Carillon Miami Wellness Resort is hosting a Global Wellness Day event on Saturday, June 11 that is complimentary and open to the public.
The event will kick off with a yoga class led by Julianne Aerhee Byun (@where.your.hope.lives) followed by wellness activations with the biostation and Advanced Holistic Center and more. Carrot Express will be providing lite bites and refreshments.
With the slogan "one day can change your whole life," Carillon Miami Wellness Resort celebrates Global Wellness Day on the second Saturday of June every year as an international day. Global Wellness Day is an entirely not-for-profit day, a social project dedicated to living well. The purpose of Global Wellness Day is to ask the question, even if for just one day, "How can I live a healthier and better life?", to direct the thoughts of both individuals and society toward "living well" and to raise awareness.