Cannabis LAB to Host Annual Cannabis LAB Conference and Expo
Friday, 06/03/2022-06/04/2022, 09:00 am-04:20 pm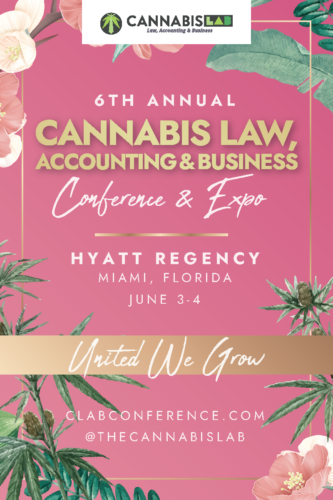 Hyatt Regency Miami
400 Southeast 2nd Avenue,
Miami, Florida, 33131
Eventbrite
Cost: 30 – 299
Requiring social distancing? NO REPLY
Requiring masks? NO REPLY
Providing hand sanitizer? NO REPLY
In an effort to give the cannabis community an opportunity to safely connect, engage, learn and grow, Cannabis LAB (CLAB) is pleased to host its 6thAnnual Cannabis Law, Accounting and Business (CLAB) Conference and Expo on Friday, June 3 and Saturday, June 4 at Hyatt Regency in Miami, Florida.Ricky Williams, former NFL player and founder and president of Highsman, will serve as the event's keynote speaker.
Cannabis LAB (CLAB), which stands for Law, Accounting & Business, is a professional industry association whose mission is to educate, connect and empower business professionals looking to enter or already in the cannabis industry.
The two-day hybrid B2B and B2C conference will focus on laws affecting practitioners and businesses within the cannabis industry and the critical issues and challenges impacting the space. This year's theme is "United We Grow" and will embody why gender and race issues will shape how society advances.
At the conference and expo, attendees will hear from top executives, educators and thought leaders in the cannabis space during interactive activations and educational panels. CEOs, start-ups, ancillary business professionals, legacy marketers and the cannacurious will learn more about the cannabis industry, businesses in the space, networking and job opportunities, how to register for a medical marijuana card, and much more. Panel topics will include legal; marketing; risk management; accounting; data, technology and retail; culture and community; investment and starting a canna-business.
More than a typical conference, the CLAB Conference and Expo offers guests an immersive educational experience through health and wellness extracurricular activities for the mind, body and soul. On Saturday, June 4, expo-goers have the opportunity to join an early morning elevated yoga session and breakfast with Ricky Williams. Additional activities include an expo hall open to the public, classes for consumers, happy hours, after parties, and other surprises throughout Miami.