The 1st Annual Teen Art Force Fashion Show
Friday, 05/27/2022-, 06:00 pm-07:30 pm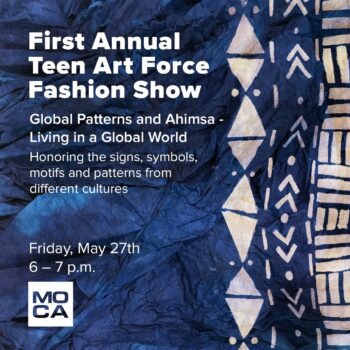 Museum of Contemporary Art
770 NE 125th Street,
Miami, Florida, 33161
Website
Cost: Free
Requiring social distancing? YES
Requiring masks? OPTIONAL
Providing hand sanitizer? NO
The community is invited to celebrate students from MOCA's Teen Art Force Fashion & Textile Design course where the museum will be showcasing the students' final projects. Students will model their own designs fabricated by hand using the skills they acquired in class over the course of the 2021-22 school year under the instruction of MOCA educator and professional fashion designer, Fiona Henderson. MOCA will also be hosting the Annual Teen Art Force Exhibition in the breezeway, where students will display the 2D, 3D artwork and film work they created.
Guests may also pick up a copy of this year's MOCAzine, the student-crafted publication created for the community. MOCAzine has documented MOCA's teens' experiences, images, and thoughts for the past 20 years. The publication has captured student work, field trips, and visiting artist talks during the 2021-22 course.
The first annual Teen Art Force Fashion Show will also showcase food and fashion vendors, and an art exhibition by ProjectArt, "Remember the Sky: Memory Landscapes, Real and Imagined." After the fashion show, guests are invited to stay for Jazz at MOCA, MOCA's free monthly outdoor jazz concert series on the plaza.
MOCA Teen Art Force is a one-of-a-kind, free, multidisciplinary art program that provides students with a foundation in the visual arts. Classes include a wide range of techniques including drawing, textile design, sculpture, and printmaking. Teen Art Force is made possible by the support of the Miami-Dade County Department of Cultural Affairs and the Cultural Affairs Council, the Miami-Dade County Mayor and Board of County Commissioners. Teen Art Force is funded by The Children's Trust. The Children's Trust is a dedicated source of revenue established by voter referendum to improve the lives of children and families in Miami-Dade County.