Children's Harbor Edge of Summer Mixer
Thursday, 06/02/2022-06/02/2022, 06:00 pm-08:30 pm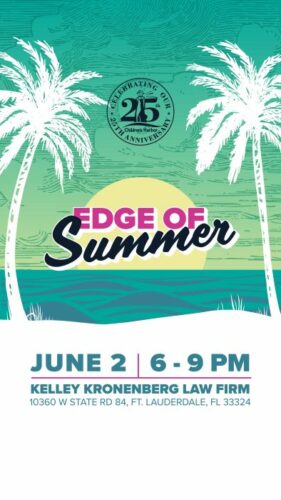 Kelley Kronenberg Law Firm
10360 W State Road 84,
Fort Lauderdale, Florida, 33324
Website
Cost: $35
Requiring social distancing? NO
Requiring masks? NO
Providing hand sanitizer? NO
Children's Harbor kicks off the summer season with an Edge of Summer Society Mixer at Kelley Kronenberg Law Firm at 10360 W State Road 84 in Fort Lauderdale on Thursday, June 2 at 6 p.m.
The Safe Harbor Society Mixer benefits Children's Harbor and is open to the public. Tickets are $35 and include cocktails, hors d oeuvres and networking. To purchase tickets, visit https://bit.ly/3KKdf2c.
The Safe Harbor Society is actively building a community of "Harbor Keepers," a team of community advocates ushering in change to enhance the lives of foster children who have been impacted by trauma and neglect.
"Our Mixers give us a tremendous opportunity to increase our awareness, spread our message and meet like-minded leaders who want to empower the at-risk children and families in our care with the tools they need to overcome their trauma and grow into healthy, educated and productive adults," said President/CEO of Children's Harbor Tiffani Dhooge. "We hope everyone can join us in making a real difference and ultimately changing lives."
For more information, call 954-252-3072 or visit childrensharbor.org.