Butterflies After the Rain Mariposas Despues de la Lluvia
Friday, 03/25/2022-, 08:00 pm-09:30 pm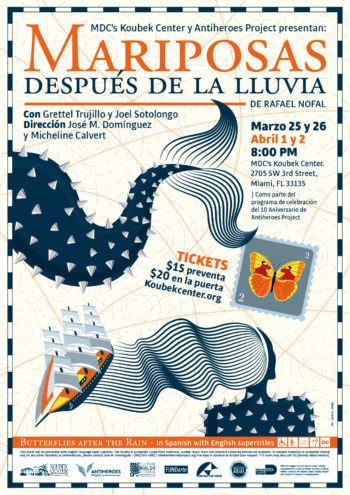 Miami Dade College Koubek Memorial Center
2705 SW 3rd St,
Miami, Florida, 33135
Buy Tickets
Cost: $15 – $20
Requiring social distancing? YES
Requiring masks? YES
Providing hand sanitizer? NO REPLY
"Butterflies After the Rain"
A story about what is invisible.
Those who live in love are dangerous. They can remember what others
forget, they can fight against the improvident, they can see the
yellow butterflies that fly after the rain.
They are in short, subversives and cannot be forgiven for this.
This is, at the end, the story of a friendship between two dangerous
individuals, two urban warriors.
Presented in Spanish with English supertitles
Artistic Direction – José Manuel Domínguez and Micheline Calvert
Cast – Grettel Trujillo and Joel Sotolongo