Tipsy Flamingo Comedy Night (Sunday)
Sunday, 04/03/2022-, 08:00 pm-10:30 pm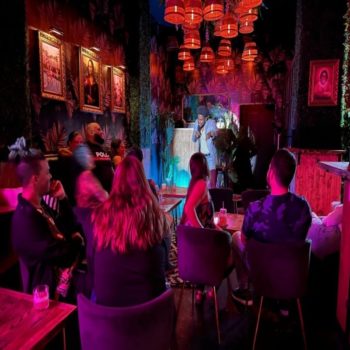 Tipsy Flamingo Cocktail Bar
40 Northeast 1st Avenue ##101,
Miami, Florida, 33132
Buy Tickets
Cost: USD 17.55 – USD 38.77
Requiring social distancing? NO REPLY
Requiring masks? NO REPLY
Providing hand sanitizer? NO REPLY
Discover this hidden comedy club in Downtown Miami every SUNDAY at the Tipsy Flamingo 8pm!
Full Bar Available: beers, wine and other restaurants nearby (you can dine at the bar!)
Great Sunday night out for date night, social get togethers, celebrations, and co-workers!
Local Miami Standup Comedians Showcase with special guest appearances
Live Miami Stand Up Comedy every Sunday in Downtown Miami
Ticketing options
1. Save on the bar tab, get the Buy-One-Get-One-Free Drink Wristband! $15 online or $20 at the door.
If you want to cut your drinks tab in half and save money, purchase the Buy-One-Get-One Free Drink Wristband.
Everytime you order a drink, the next one is on us until the end of the show!
Get your seats reserved with priority seating! $15 online or $20 the day of.
Guaranteed comfortable seating for you and your guests!
Because of limited seating capacity, we now offer reserved VIP seating for those who RSVP with Priority seating.
Get Priority Seating and BOGO Drinks Wristband for $25.
OR
Get Priority Seating, BOGO Drinks Wristband AND a T Shirt for $35.
Prices:
VIP Seating + BOGO Wristband + T Shirt [Save $20]: USD 38.77,
VIP Priority Seating + BOGO Wristband [Save $10]: USD 28.16,
Priority Seating Reservation (Day of): USD 22.85,
Priority Seating Reservations (Early): USD 17.55,
BOGO Wristband (Buy-One-Get-One-Free) Drinks: USD 17.55