Dania Beach Jai-Alai Presents Battle at the Palace at The Casino @ Dania Beach
Friday, 04/01/2022-04/10/2022, 07:00 pm-08:30 pm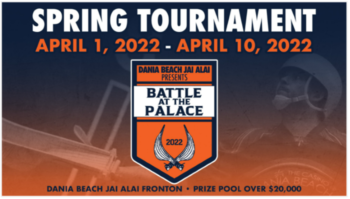 The Casino @ Dania Beach
301 E Dania Beach Blvd,
Dania Beach, Florida, 33004
Website
Cost: $5-$28
Requiring social distancing? NO
Requiring masks? OPTIONAL
Providing hand sanitizer? NO
Paying homage to the original Dania Jai-Alai Palace, which in its heyday in the '70s and '80s drew thousands of fans to the stands, this first-ever exhibition tournament will pair 16 of the sports' top-ranked players as they compete in elimination rounds for more than $21,000 in cash and prizes.
"Generations of fans have enjoyed this exciting sport in our fronton," said Arnaldo Suarez, CEO of The Casino @ Dania Beach. "We're excited to help carry on the nearly four-hundred-year tradition of Jai-Alai and host this special exhibition tournament which brings together some of the world's most talented players."
Jai-Alai has been dubbed the fastest moving ball sport in the world by Guinness World Records. After hosting Jai-Alai games for almost 70 years as home to the last remaining full court frontons in America, the final regulation Jai-Alai game was played at The Casino @ Dania Beach on November 28, 2021.
"Jai-Alai is a tight community with a global brotherhood of players and devoted fans," said Benny Bueno, Jai-Alai Player Manager at The Casino @ Dania Beach. "This tournament is our way of celebrating these exceptional players, entertaining our devoted fanbase and doing our part to ensure the sport's legacy lives on."