9th Annual 305 DAY Block Party
Saturday, 03/05/2022-, 01:00 pm-11:00 pm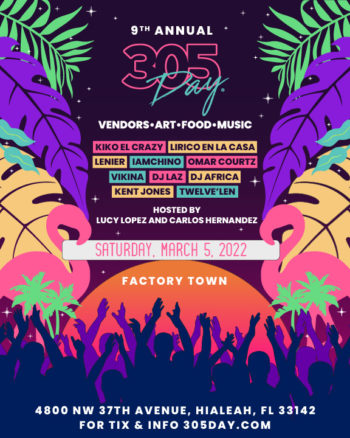 Factory Town
4800 NW 37th Avenue,
Hialeah, Florida, 33142
Eventbrite
Cost: $0.00- $35.00
Requiring social distancing? NO REPLY
Requiring masks? NO REPLY
Providing hand sanitizer? YES
BRO, 305 FOR LIFE!
305 DAY® is back for the 9th year in a row and this time, we're bigger and better than ever! On Saturday, March 5th 2022 from 1-11 p.m., we'll be celebrating all things 305 at our brand new venue, Factory Town.
Introducing the newest addition to our yearly celebration – El Mercadito – a FREE outdoor experience with vendors, art, live music, and great food the whole family will enjoy.
Come out and experience some of the best the 305 has to offer – while you're there, upgrade your tickets for an incredible musical experience at our concert space.
RSVP for FREE entry or upgrade your access for the concert!
305 DAY 2022 CONCERT LINEUP:
Kiko El Crazy
Lenier
DJ Laz
DJ Chino
Lírico en la Casa
Vikina
Omar Courtz
Twelve'len
Kent Jones
Hosted By:
Lucy Lopez and Only In Dade's Carlos Hernandez
Free Cafecito by Cafe La Llave + Free Pastelitos by Vicky Bakery
Miami-Dade Transit x 305 DAY #go305bus display by Cintia "Cynno" Santos
Check out the full line-up of local vendors at 305day.com
¡Dale, see you there on Saturday, March 5th 2022 kicking off at 1 p.m. until 11 p.m.
MORE INFO AND TICKETS AT 305DAY.COM