America's Wonders: A 3D Cinematic and Musical Journey
Sunday, 03/20/2022-, 07:30 pm-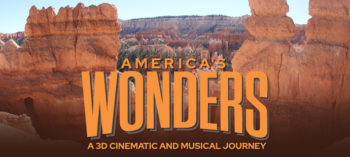 Adrienne Arsht Center for the Performing Arts
1300 Biscayne Blvd,
Miami, Florida, 33132
Website
Cost: $40 – $125
Requiring social distancing? NO REPLY
Requiring masks? NO REPLY
Providing hand sanitizer? NO REPLY
Calling it "superb," "stunning" and "extraordinary," critics and audiences rave about America's Wonders, an orchestral and cinematic celebration. Through the magic of 3D, you will travel into 26 of the nation's most breathtaking national parks and nine of America's most vibrant and inviting cities — all from the comfort of your seat.
During the first half of the performance, concertgoers witness the sun rise over the Grand Canyon, gaze up at the canopies of the redwood forests and fly over the Appalachian Mountains. The second half explores our nation's vibrant cities, as concertgoers walk through New York's Time Square, experience the thrill and lights of Las Vegas and stroll across the Golden Gate Bridge. America's Wonders even features our great city, Miami.
In this cinematic journey, a live symphonic orchestra plays selections that are perfectly synced to the action in the film. While immersed in 26 national parks, you will hear popular and original compositions such as "Grand Canyon Suite" and "Shenandoah." As you navigate through our nation's greatest cities, the orchestra accompanies new tenor sensation Adam Fisher with songs that align with each of the cities, including "New York, New York," "My Kind of Town," "Conga," "Viva Las Vegas," "Crazy Town," "I Left My Heart in San Francisco," "Deep in the Heart of Texas," "Carolina on My Mind," "City of Stars," "Seattle" and "City of New Orleans."
America's Wonders is conceived and created by Princeton Entertainment Group, the same team that produced Lasting Impressions in 3D, which received rave reviews during its five-week run at the Arsht Center.