Virtual Open Enrollment for Homeownership Application with Habitat for Humanity of Broward
Tuesday, 02/01/2022-03/31/2022, 12:00 am-11:59 pm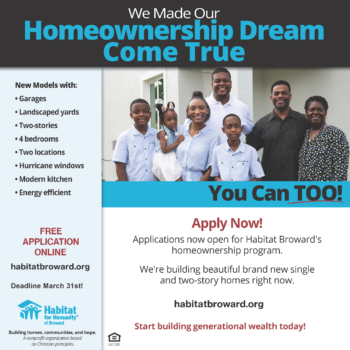 More Information
Cost: Free
Open enrollment underway for Habitat for Humanity of Broward's pre-application process for new energy efficient, affordable housing at "A Rick Case Habitat Community" and North-West 27th Street developments in Pompano Beach via www.habitatbroward.org.
The new energy efficient models will include four bedrooms, garages, modern kitchens, landscaped yards, and hurricane impact windows.
These locations are minutes away from beautiful beaches, schools, churches, a lively art and cultural scene, and great recreational and shopping amenity.
The homes include the last 33 to be built in the new intentional community, "A Rick Case Habitat Community," which when completed, will be the largest affordable housing development of single-family homes in Broward's history, providing 76 homes for hard-working families.
The application process has four steps that includes a pre-qualification questionnaire, orientation, financial analysis review and face-to-face interview. Successful applicants can expect to move into a home within 12 to 18 months.
Qualifications include but are not limited to the following:
• Must be a first-time homebuyer.
• Must be a U.S. Citizen or legal permanent resident.
• Must be a current Broward County resident or working in Broward (for a year or more).
• Must demonstrate a need for affordable housing.
• Must be able to afford a zero-percent mortgage and make a $2,000 down-payment.
Interested families can visit https://www.habitatbroward.org/2020-pre-qualification-questionnaire/ to start the pre-application process.