Meet Guy Harvey
Saturday, 02/12/2022-02/13/2022, 01:30 pm-06:00 pm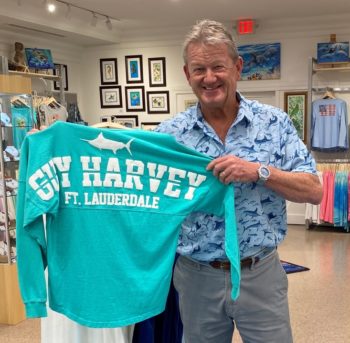 Guy Harvey Gallery & Shop
816 E. Las Olas Blvd.,
Fort Lauderdale, Florida, 33301
Eventbrite
Cost: Free
Requiring social distancing? YES
Requiring masks? OPTIONAL
Providing hand sanitizer? YES
Guy Harvey, Ph.D., world-renowned artist, scientist, conservationist and entrepreneur, will be available for meet-and-greets, photo ops and merchandise signing at his new gallery and shop in Las Olas Blvd.
Schedule:
Saturday, February 12 from 1:30 – 3:30 p.m. and 4:00 – 6 p.m.
Sunday, February 13 from 1:30 – 3:30 p.m. and 4:00 – 6 p.m.
Additional Information:
The unmistakable splash of Dr. Harvey's iconic art, apparel, books and ocean-inspired accessories and gifts come to life in the new 2,600-sq.-ft. gallery and store in Las Olas Boulevard.
This new location reflects a familiar marine-inspired Guy Harvey shopping experience, but now with higher visibility in downtown Fort Lauderdale – one of South Florida's most desirable streets – since Las Olas Boulevard is popular not only with tourists but with the surrounding residential and business community as well.
A portion of proceeds from sales of all Guy Harvey apparel and merchandise at the store and online benefit ocean research, education and conservation initiatives through the Guy Harvey Ocean Foundation (GHOF). The non-profit organization is dedicated to saving the seas, supporting groundbreaking research and helping foster the next generation of ocean conservationists. The GHOF recently launched a new K-12 marine science education curriculum for students in Florida that is also expanding internationally.
The retail store is open Monday through Saturday from noon to 6 p.m. and Sundays from noon to 5 p.m. For more information, call the store at 954-769-1996.