Market at THesis
Saturday, 01/15/2022-, 12:00 pm-03:00 pm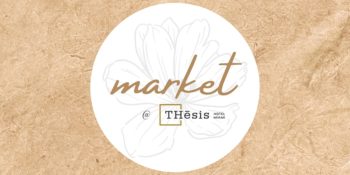 THesis Hotel Miami
1350 S Dixie Hwy,
Coral Gables, Florida, 33146
Eventbrite
Cost: Free
Requiring social distancing? NO
Requiring masks? OPTIONAL
Providing hand sanitizer? NO REPLY
THesis Hotel, located in the heart of Coral Gables, is proud to kick off 2022 with Market @ THesis, an open air market in the welcoming ambience of the hotel's paseo courtyard taking place on Jan. 15 from 12-3 p.m. The market brings together visitors, neighbors and hotel guests to support the community and celebrate the fun and family oriented culture of Coral Gables.
Market @ THesis supports local small businesses by having a rotating selection of vendors. Guests can purchase various in-season goods, such as fresh produce, delicious artisanal foods and a plethora of lifestyle and wellness products. The event provides a variety of entertainment, including live music and giveaways, to craft a fun and eventful time for every guest. Attendees can choose to pair their experience with lunch at Orno, one of two on-site restaurants offered at THesis Hotel, by 3x James Beard Nominee Chef Niven Patel.
THesis Hotel is a modern property that serves as a cultural hub and communal gathering space. With a philosophy centered around being more than just a hotel, it's a destination that fosters genuine connection and creative expression. With a sun-filled rooftop pool with tropical views, a poolside bar and two on-site restaurants, it's an oasis where curious, like-minded individuals exchange ideas, celebrate art, discover new cultural experiences and engage with their community.