Monthly Psychedelic Series at Soho Beach House Miami
Monday, 12/20/2021-, 07:00 pm-10:00 pm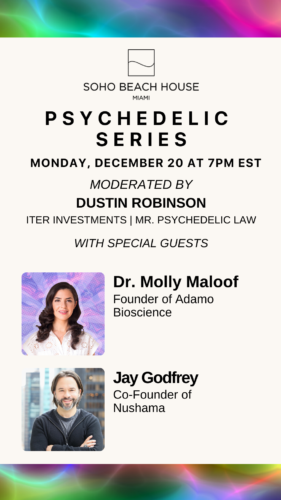 Soho Beach House
4385 Collins Ave,
Miami Beach, Florida, 33140
Website
Cost: Free
Requiring social distancing? YES
Requiring masks? OPTIONAL
Providing hand sanitizer? NO
What/Who:
On Monday, Dec. 20 at 7 p.m., Dustin Robinson, Esq. CPA, will present his monthly Psychedelic Series at Soho Beach House Miami. The panel will feature Molly Maloof, MD, founder of Adamo Bioscience, and Jay Godfrey, co-founder of Nushama Psychedelic Wellness.
Robinson is Founding Partner of Mr. Cannabis Law – a full service law firm focused on the cannabis and psychedelic industries; Co-Founder of Mr. Psychedelic Law – a non-profit focused on psychedelic legal reform; and Managing Principal of Iter Investments – a venture capital firm deploying capital across the psychedelic ecosystem.
Dr. Maloof – physician, technologist and entrepreneur – is on a mission to radically extend healthspan, maximize human potential, and redefine health care using medicine, technology, education and media. Her fascination with innovation permeates her concierge medical practice that is focused on providing personalized medicine to entrepreneurs, technology executives, investors and celebrities. She has consulted with more than 45 companies in the digital health, consumer health, and biotechnology industries needing help with clinical strategy, product development, clinical research and scientific marketing. Dr. Maloof most recently founded Adamo Bioscience and offers a health optimization program that is tailored to help create the healthiest version of oneself.
Godfrey is a co-founder of Nushama Psychedelic Wellness – a network of legal psychedelic wellness clinics to treat depression, anxiety, PTSD, opioid addictions, alcoholism, OCD, eating disorders and other ailments of the spirit. His fascination and exploration into the therapeutic benefits of plant medicine came with realization that three years of traditional talk therapy was insufficient to get to the root of his stress. After working with physicians, shamans, reading dozens of books and research papers, and talking with thought leaders in the psychedelic ecosystem, he felt the gravitational pull to help others in similar situations. Nushama was born out of Godfrey's desire to partner with the most experienced physicians and business minds to create novel treatment alternatives and build the infrastructure for the future of psychedelic medicine.
Moderated by Robinson, each private monthly panel features experts in the psychedelics space from CEOs, doctors, lawyers and celebrities. Past panelists include NBA Champion Lamar Odom, Stanley Cup champion Daniel Carcillo, Psilera Bioscience CEO Chris Witowski, PhD, Silo Wellness CEO Douglas K. Gordon, Michelle Weiner, DO, MPH, and others.
When:
Monday, Dec. 20, 2021; 7 p.m. EST
Where:
Soho Beach House Miami
4385 Collins Ave., Miami Beach, FL 33140
How:
The event is private and only open to Soho Beach House members.
To RSVP, please visit: https://www.eventbrite.com/e/psychedelic-panel-series-tickets-225859209977