10,000 Strong Black Leadership Conference
Saturday, 12/04/2021-, 05:00 pm-10:00 pm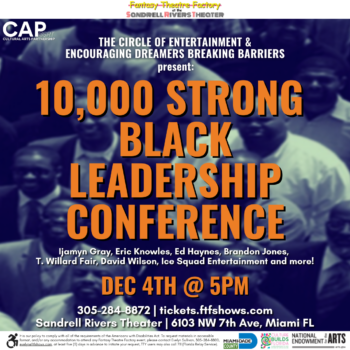 Sandrell Rivers Theater
6103 NW 7th Ave.,
Miami, Florida, 33127
Buy Tickets
Cost: $40
Requiring social distancing? YES
Requiring masks? OPTIONAL
Providing hand sanitizer? YES
The Circle of Entertainment, Encouraging Dreamers Breaking Barriers and Fantasy Theatre Factory present an exclusive networking event like no other!
Come together with a progressive business community. Learn more about establishing positive business acumen. Come enjoy panels discussing Social Activism, Finance, Religion, Medical Discrimination, Sports, Tech, Arts & Entertainment led by some of Miami's finest business persons. Ijamyn Gray, Eric Knowles, Ed Haynes, Brandon Jones, T. Willard Fair, David Wilson, Ice Squad Entertainment just to name a few. Refreshments will be provided by Other Side of the Bridge!
There will be powerful Q&A's after each panel, so come and be heard!
A Special Thank You to the Circle of Brotherhood, Natural Motions Studios, Encouraging Dreamers Breaking Barriers, Other Side of the Bridge, S.H.E.A.R. Inc, Arc of the City, The Urban League, The Miami Dade Chamber of Commerce, Ice Squad Entertainment, Mt. Calvary Baptist Church., Haynes Security, Southeast Overtown/Park West Community Redevelopment Agency and Blackman Music Group.
Parking Garage- 6104 NW 6th Ct. Miami, FL 33127
COVID-19 Protocol & Practices: Masks are recommended.
ADA Accommodations: It is our policy to comply with all of the requirements of the Americans with Disabilities Act. To request materials in accessible format, and/or any accommodation to attend any Fantasy Theatre Factory event, please contact Evelyn Sullivan, 305-284- 8800, evelyn@ftfshows.com, at least five (5) days in advance to initiate your request, TTY users may also call 711 (Florida Relay Service).
Sponsors: This program was made possible with the support of the Miami-Dade County Department of Cultural Affairs and the Cultural Affairs Council, the Miami-Dade County Mayor and Board of County Commissioners, the Broward County Cultural Division, sponsored in part by the State of Florida, Department of State, Division of Arts and Culture and the Florida Council on Arts and Culture, and the National Endowment for the Arts.