Meet Dr. Rachna Buxani Mirpuri
Saturday, 11/20/2021-, 02:00 pm-03:30 pm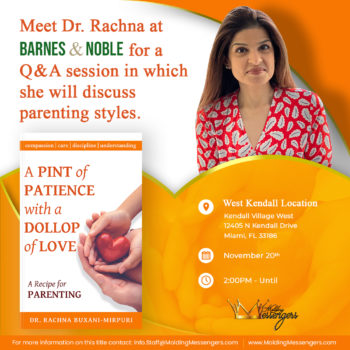 Barnes & Noble West Kendall
Kendall Village West, 12405 N Kendall Drive,
Miami, Florida, 33186
Website
Cost: FREE
Requiring social distancing? YES
Requiring masks? OPTIONAL
Providing hand sanitizer? NO
Meet Dr. Rachna Buxani-Mirpuri, a Miami, FL-based Licensed Mental Health Counselor (LMHC) and author of A Pint of Patience with a Dollop of Love on Saturday, November 20th at 2pm at Barnes & Nobel West Kendall.
A Pint of Patience with a Dollop of Love is a recipe book for parenting and Dr. Rachna will host a Q & A to discuss different types of parenting styles to help guide parents through all the different stages of their children's lives.
Dr. Buxani is the founder of Buxani Care located in Pinecrest and she has extensive experience working with both children as well as adults to overcome various challenges including depression, anxiety, eating disorders, general life stresses, behavioral disturbances, interpersonal conflicts, and marital and familial dysfunction. Her approach to helping is by providing an empathetic, non-judgmental and safe environment for clients to heal and become resilient through the therapeutic process. This resilience-based, client-centered approach to therapy allows her to empower clients to reclaim the inherent strength that lies within us all.
Dr. Buxani-Mirpuri served counselor within schools and worked with a global education company as Counseling Coordinator for 21 schools in the United Arab Emirates (UAE). Through her experiences she developed a keen awareness and understanding of the needs of young clients and their families.