Art Bodega's Art Basel Issue Launch Party Presenting Becky Robbins
Tuesday, 11/30/2021-, 06:30 pm-08:30 pm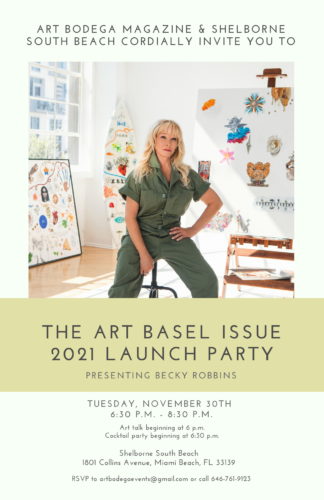 The Drawing Room at Shelborne South Beach
1801 Collins Ave, Miami Beach,
Miami, Florida, 33139
Website
Cost:
Requiring social distancing? NO REPLY
Requiring masks? NO REPLY
Providing hand sanitizer? NO REPLY
Art Bodega Magazine is kicking off the launch of their annual Art Basel issue with a cocktail party for artist Becky Robbins at the Shelborne South Beach on Tuesday, November 30th from 6:30 p.m. to 8:30 p.m. Robbins will also host an art talk at 6 p.m. prior to the reception. Just in time for Art Week 2021, Becky Robbins will be showcasing her most recent collection "Yūgen". Pieces in the collection include the PALE BLUE DOT, referencing our journey on this tiny planet; LEAP OF FAITH, which revolves around taking risks; and LOVE IS STILL THE ANSWER, which was inspired by a Jason Mraz song. To RSVP for this event, please email karla@thedanaagency.com.