Psychedelics Expert Dustin Robinson to Present "Meet The CEOs" During Monthly Psychedelic Panel at Soho Beach House Miami
Tuesday, 08/10/2021-, 07:00 pm-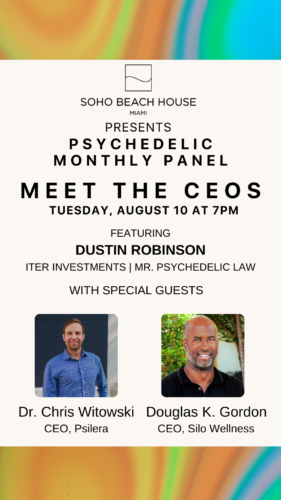 Soho Beach House
4385 Collins Ave,
Miami Beach, Florida, 33140
Website
Cost: Free
Requiring social distancing? YES
Requiring masks? OPTIONAL
Providing hand sanitizer? NO
What/Who:
On Tuesday, August 10 at 7 p.m., Dustin Robinson, Esq. CPA, will present "Meet The CEOs" featuring special guests Psilera Bioscience CEO Chris Witowski, PhD and Silo Wellness CEO Douglas K. Gordon, as the second installment of Robinson's new monthly psychedelic panel at Soho Beach House Miami.
The private monthly panel takes place at Soho Beach House Miami on the second Tuesday of every month. Moderated by Robinson, each panel will feature experts in the psychedelics space from CEOs, doctors, lawyers and celebrities. Robinson kicked off the first event of the series in July with NBA Champion Lamar Odom and "psychedelic concierge to the stars" Michael 'Zappy' Zapolin.
Robinson is Founding Partner of Mr. Cannabis Law – a full service law firm focused on the cannabis and psychedelic industries; Co-Founder of Mr. Psychedelic Law – a non-profit focused on psychedelic legal reform; and Managing Principal of Iter Investments – a venture capital firm deploying capital across the psychedelic ecosystem.
Dr. Witowski co-founded Psilera Bioscience to use psychoactive natural products as building blocks to treat serious mental health afflictions. Psilera will accomplish this using innovative, patient-friendly delivery technologies with N,N-dimethyltryptamine (DMT) and a next-generation virtual screening platform to identify new compounds with modified psychedelic and therapeutic effects. Prior to Psilera, he was a co-inventor on numerous patents for the discovery of various anti-infective natural products and multiple drug delivery systems for increasing the bioavailability of cannabinoids and terpenes. He has helped design and build facilities and labs around the country and launched an international product line with annual revenues in excess of $100 million. Dr. Witowski is personally motivated to improve the lives of patients and has witnessed the devastation of Alzheimer's disease, depression, and dispassionate end-of-life cancer treatments.
Gordon is the CEO of Silo Wellness, a multinational, publicly-held company with global HQ in Toronto, Canada and operations in both Jamaica and Oregon. Silo's mission is to support in the reduction of trauma and increased performance through psychedelic, time tested natural medicines. From inception, Silo's focus has been to serve clients searching for more mindful and expansive lives. Psychedelics offer a pathway to that sort of enriched experience, and the company is actively exploring remedies that can be widely, economically and safely distributed to patients. Silo Wellness has launched its first global functional and psychedelic mushroom brand, Marley One, through a multi-year licensing agreement with the family of global reggae icon Bob Marley.
When:
Tuesday, Aug. 10, 2021; 7 p.m. EST
Where:
Soho Beach House Miami
4385 Collins Ave, Miami Beach, FL 33140
How:
The event is private and is only open to Soho Beach House members.