Swim Week Fashion Show at Maü Miami!
Thursday, 07/08/2021-, 08:00 pm-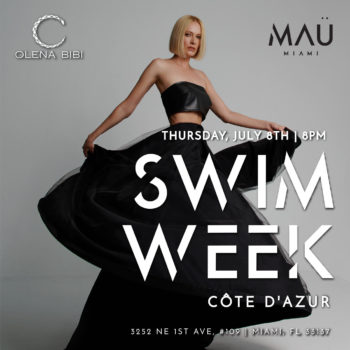 Maü Miami
3252 NE 1st Ave #109,
Miami, Florida, 33137
Website
Cost:
Requiring social distancing? NO REPLY
Requiring masks? NO REPLY
Providing hand sanitizer? NO REPLY
The long-awaited return of in-person runway shows is back this weekend for the Miami Swim Week 2021. Editors, bloggers, and social influencers will make their way to Miami to see the new design trends for the year while enjoying the beachfront parties and sipping cocktails at Miami's favorite Restaurants. This time around, midtown's Mediterranean restaurant, Maü will be hosting a fashion show on Thursday, June 8th at 8 PM. Designer Olena Bibi will be showcasing her collection Côte d'Azur with the beautiful and unique designs she has been working on for these past months. Guests can book their reservations for dinner and enjoy the much-anticipated runway of Olena Bibi, the Ukrainian fashion designer. Maü Miami is located at 3252 NE 1st Ave #109, Miami, FL. Reservations are highly encouraged and can be made on Seven Rooms; or by telephone (786) 698-8628.