Miami Reggae Festival
Saturday, 08/07/2021-08/08/2021, 03:00 pm-12:00 am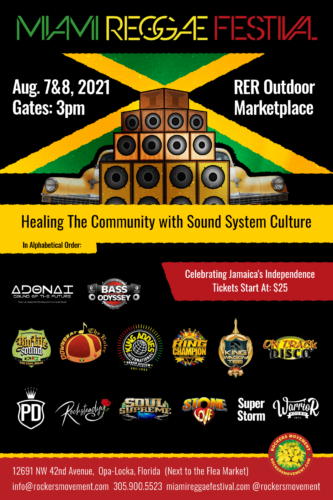 Opa Locka Marketplace
12691 NW 42nd Ave,
Opa Locka, Florida, 33054
Website
Cost: 25
Requiring social distancing? YES
Requiring masks? YES
Providing hand sanitizer? YES
A Celebration of Jamaica's 59th year of Independence with aCall for Healing the Community through the vibrations of SoundSystem Culture.Miami Reggae Festival 2021 Celebrates Jamaica's Independence Weekend with a Call for Healing the Community through Sound System Culture. Miami Reggae Festival weekend takes place on Saturday, August 7th and Sunday, August 8th, 2021. In their seventh year of presenting Miami Reggae Festival, Rockers Movement goes back to basics with a shift toward Jamaica's Sound System Culture in solidarity, building on the foundation of the positive vibrations of Reggae and symbolizing the self-determination of our communities to survive.
The Annual Miami Reggae Festival 2021 celebrates the 59th year of Jamaica's Independence with a call for healing the community and featuring the very best of Sound Systems from around the world (in alphabetical order): Adonai Sound, Bass Odyssey, Big Life Sound, Downbeat The Ruler, King Addies International, King Champion, King Waggy Tee, Ontrack Disco, Poison Dart, Rocksteadyy, Soul Supreme, Stone Love, Super Storm, Warrior Sound International and hosted by Mutabaruka.
Miami Reggae Festival is an Annual Charitable Music and Arts Festival with a 2021 focus on Healing the Community to gain the mental strength needed to renew a sense of oneness through this next phase of the global health crises. And to enhance the goodness, visitors can enjoy arts and crafts, dominoes, fresh juices and delicious Caribbean Jerk and Curries – all within the foundational groove of the Sound Systems.  Caribbean food is world renowned for its flavorful dishes which feature the richness of Jerk and curry seasonings and such favorites as, curried goat, oxtails, rice and peas, roti, red snapper, patties with coco bread, a wide variety of vegan options and the refreshment of fresh coconut water and cane juice.  This is a Caribbean banquet to enjoy with loved ones after time spent locked away and a chance to listen to some good Roots, Rock, Reggae and Dub music.
Miami Reggae Festival fuses food, arts and Reggae to raise awareness about extreme poverty as we come together for healing during Jamaica's Independence weekend – a time of reflection on our individual contributions, for reverence in appreciation of what we have, for levity and lightheartedness, and also for peace as we expand our consciousness through the joy of celebration and charitable giving.