History Fort Lauderdale's "Meet the Author" Zoom Series Featuring John Bailey on April 8
Thursday, 04/08/2021-, 12:00 pm-01:00 pm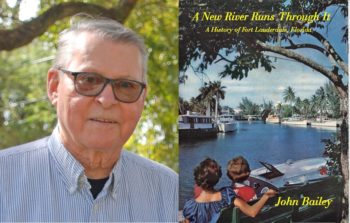 Website
Cost: Free, live interactive Zoom
History Fort Lauderdale, proud steward of our community's past by making our heritage accessible and engaging to residents and visitors, will feature writer/historian John Bailey on the next April 8 noon segment of its "Meet the Author" interactive Zoom series. The new free series takes place on the second Thursday of each month. Viewers may register at http://bit.ly/HFLMeetTheAuthorBailey.
Bailey is author of A New River Runs Through It, an exciting, comprehensive story of a river and the city that grew up along its banks. Beginning with the legend of how the river acquired its name, this narrative brings to life the story of the rugged men and women who settled along it and built the city of Fort Lauderdale into a world class international business and financial center. It ends with the latest events: the recent expansion of rail commuter service, the city's management of the Covid-19 pandemic, and a look forward to our future. The book is available on Amazon and in signed editions at History Fort Lauderdale's Museum Shop.
In 1946, at the age of nine, John Bailey arrived at the New River with his parents. He attended several of the area's different schools – West Side, Davie, Naval Air, Central, and Fort Lauderdale High School. Through his various local teachers, Bailey developed an abiding interest in his home town. Many of his personal experiences of growing-up and living along the River are sprinkled throughout this book. His previous best selling history books include Sentinel of the Jersey Cape, The Story of the Cape May Lighthouse, Cape Island, The Jewel of the Jersey Shore and Juet's Journal, Henry Hudson's Explorations on the Half Moon.
Bailey joins Kingsley Guy and Donn R. Colee, Jr. as part of History Fort Lauderdale's prestigious "Meet the Author" series, a chance to converse with South Florida-based writers, launched in February. Upcoming novelists will be announced.
History Fort Lauderdale is currently open seven days a week, from 10 a.m. – 4 p.m., with docent guided tours, daily, at 1, 2 and 3 p.m. Group walking tours are available upon special request. Admission is $15 for adults; $12 for seniors and $7 for students (through age 22 with a valid student ID). Admission is free for members, military and children ages six and under. Tickets are available online at HistoryFortLauderdaleTickets.
In compliance with local and state health guidelines, visitors to History Fort Lauderdale will be required to wear a mask, have a digital temperature reading and practice safe social distancing of six feet apart. Hand sanitizer will be available at the front desk admission point and all surfaces will be thoroughly cleaned multiple times a day, per CDC guidelines. Additionally, guests will be asked to sign-in, daily, for contact tracing.
For more information, please call (954) 463-4431 or visit historyfortlauderdale.org. Follow us on Facebook at facebook.com/ftlhistory, on Instagram @ftlhistory, on Twitter @FLLhistory and subscribe on YouTube at youtube.com/user/FTLhistory.