The Luck of the Cubans on St.Patrick's Day at Calle 23 Miam
Wednesday, 03/17/2021-, 07:00 pm-11:00 pm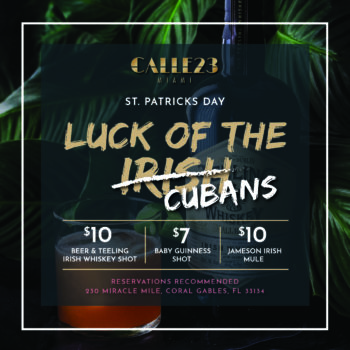 Calle 23
230 miracle mile,
Coral Gables, Florida, 33134
Website
Cost:
Requiring social distancing? NO REPLY
Requiring masks? NO REPLY
Providing hand sanitizer? NO REPLY
Luck of the Irish? More like the Luck of the Cubans! Join Calle 23 Miami with a round of drinks for St. Patrick's Day! Enjoy beer and telling Irish Whisky Shots for $10 each (all beers from the menu are included), Baby Guinness Shots for $7, and Jameson Irish Mule for $10. On Wednesday, March 17, guests can also enjoy Calle 23 Miami's Wednesday promotions: $7 mojitos starting at 7 p.m. and salsa dancing at 8 p.m. Celebrate a Callejera filled St. Patrick's Day at the only Cuban restaurant on Miracle Mile, Calle 23 Miami!