The 28th Annual Planned Giving Council of Broward Symposium Explores Next Generation Success & Philanthropy
Wednesday, 05/12/2021-, 09:30 am-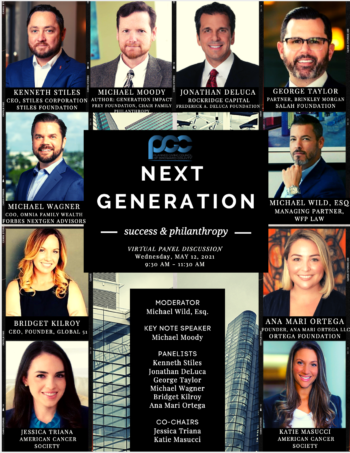 Website
Cost:
The Planned Giving Council of Broward ("PGC") announced its 2021 annual Symposium, "Next Generation Success & Philanthropy," A Conversation About Generational Wealth: What Inspires The Next Generation to Give. This special event will highlight the philosophies and trends of the next generation of donors and explore how their views will impact charitable giving.
The PGC Symposium will be held on Wednesday, May 12, 2021, virtually. An estimated 100 professional advisors, planned giving professionals and nonprofit professionals usually gather for networking and breakfast. However, this year will feature a new virtual and engaging platform to accommodate an exciting conversation on the future of charitable giving. For more information, please visit: https://www.pgcbroward.org/symposium
To learn more about the PGC Symposium, contact event chairs Katie Masucci at Katie.Masucci@cancer.org or Jessica Triana Jessica.Triana@cancer.org.