Tasty Thai Class (2 spots/ 18+)
Sunday, 02/21/2021-, 04:00 pm-06:00 pm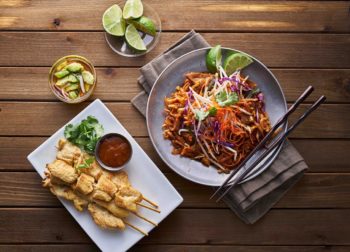 Taste Buds Kitchen
14740 sw 26 St,
Miami, Florida, 33185
Website
Cost: 118
Requiring social distancing? YES
Requiring masks? YES
Providing hand sanitizer?YES
Who needs takeout! Join us as we create authentic Thai dishes with a TBK twist that will please your palate and impress your family and friends. Learn how to put the Thai in our nut-free Pad Thai, roll fresh summer rolls like a pro and create a dipping sauce that will leave you wanting more. Grab a friend, a bottle of wine and let's enjoy a Tasty Thai culinary adventure together!
Pineapple Chicken Satay Skewers
Nut-free Pad Thai
Colorful Summer Rolls
Coconut Basmati Rice
This menu is gluten-free & BYOB.
Minimum of 2 guests per table.
​We also offer custom events and experiences! Contact our Miami Kitchen for special pricing and availability – miamiwest@tastebudskitchen.com or 305-903-2023.