Nu Deco At The Bandshell Featuring Cory Wong
Sunday, 01/30/2021-, 08:00 pm-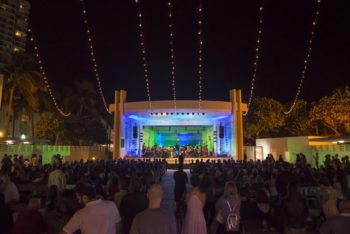 Website
Cost: 15.00
Nu Deco is back for their first live stream of 2021 from the North Beach Bandshell on Miami Beach! This concert will feature the music of George Gershwin, Chris Rogerson, and a new symphonic reimagination of the music of the Beach Boys. Special collaboration on this concert will feature guitarist, composer, producer and hype-man, Cory Wong. Head spinning, rhythm guitar wizardry, technical ebullience, laugh-out-loud jokes, and radiance on stage established Cory Wong as both a sought after collaborator and celebrated solo artist alike. You won't want to miss this concert so snag your virtual ticket today!
This ticket is for the live streamed concert and does not include admission to the North Beach Bandshell. Ticket buyers will be able to access the performance on-demand following the live concert for 72 hours.
This performance is presented in partnership with the Rhythm Foundation and the North Beach Bandshell.