Phuc Yea Transforms Their Lobby And Spreads Cheer Into A Winter Wonderland Holiday Activation All Month Long!
Wednesday, 12/02/2020-01/06/2021, 05:00 pm-10:00 pm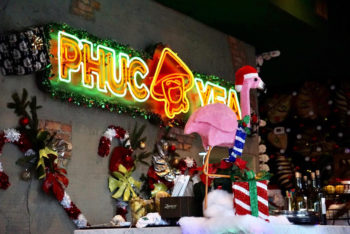 Phuc Yea
7100 Biscayne Blvd, Miami, FL 33138,
Miami, Florida, 33138
Website
Cost:
Requiring social distancing? NO REPLY
Requiring masks? NO REPLY
Providing hand sanitizer?NO REPLY
The holiday cheer has officially started and taken over Phuc Yea's lobby with holiday-inspired gifts, decorations, festive cocktails, and weekly events for everyone!
Santa will greet everyone with a mask on and Lysol spray in hand as guests step into the restaurant. From its speakeasy-esque dining room with private and semi-private dining zones to its Lantern Garden, guests can expect to see the entire restaurant converted into a merry-ephing Xmas activation.
Every day at Phuc Yea will be jolly with weekly promos that'll have people listening to "All I Want for Christmas" on replay:
Sundays will be reserved for holiday music and X-mas movies, guests may even catch a special appearance from the real-life Grinch!
Wednesday are wacky but oh' so much fun, with "Wacky Onesie Wednesday" where everyone is encouraged to come in their onesies, chill and WIN. For those who care to get extra wacky with their onesie? It will pay off as Phuc Yea will be giving away one-year worth of free oysters, the winner will claim 12 free oysters and a complimentary cocktail once a month, now that person will for sure make it on the Phuc Yea "Nice List".
Celebrate every day, the holidays are all about family and giving back, Phuc Yea
customers are invited to add an ornament to the Phuc Yea tree to become part of the family, bring an ornament and get one free shot.
Tis' the season for festive cocktails and Ani Meinhold, co-owner has created just that! Meinhold, the brain behind Phuc Yea's cocktails created "Merry Phucing Xmas" a limited-edition drink menu featuring cocktails like:
Drink Up Grinches prepared with pickled cranberry, Bombay London dry gin, Cocchi americano rosa, mandarin & cava.
Nice List, a refreshing frozen coquito perfect for this "not so winter in Miami" holiday season.
Naughty List, in other words, their Boozy AF Sangria prepared with red wine, cynar, cumbe aguardiente, Bacardi 8, Havana club Anejo, bobba pearls & macerated fruits.
(Photo Credit – Phuc Yea)