Live from our Living Room: December 4th
Friday, 12/04/2020-, 07:00 pm-08:00 pm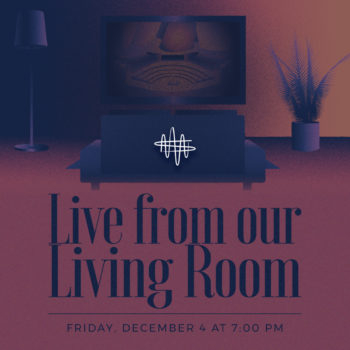 Website
Cost: Free
Join us for our next Live from our Living Room performance! This series features NWS Fellows performing live chamber music concerts. What began from their home in Miami Beach last March when the pandemic first struck, is now broadcasting from the New World Center stage (safely & within CDC and local guidelines). The next live stream concert will feature performances by Fellows, alumni, and guests including Viola Fellow Jacquelyn O'Brien and Harp Fellow Phoebe Powell performing music by Alberto Ginastera and others! Each Live from our Living Room is streamed on Facebook Live and includes Fellow remarks and an opportunity to chat with the Fellows throughout the performances and ask any questions you may have. Make sure you mark your calendars and join us on Friday, December 4th at 7:00 p.m. EST, LIVE on @NewWorldSymphony's Facebook page! To learn more, visit: https://nwsym.ph/3pqnr6p.
Check out the evening program below:
Alberto Ginastera: Variaciones concertantes (1953)
I. Theme for Cello and Harp (Adagio molto espressivo)
Paul Hindemith Der Schwanendreher (The Swan Turner) (1935)
II. "Now grow leaves, little linden tree, grow leaves": Very calm – Fugato: "The Cuckoo Sat on the Fence"
Astor Piazzolla Le Grand Tango (1982)
Max Reger Suite No. 2 in D major for Solo Viola, Op. 131d (1914-15)
Con moto (non troppo vivace)
Andante
Allegretto – Quasi meno mosso – Allegretto
Vivace
César Franck Sonata in A major for Violin and Piano (1886)
Allegro ben moderato
Allegro
Ben moderato: Recitativo – Fantasia
Allegretto poco mosso
Upcoming Dates for Live from our Living Room Series:
Friday, December 18 at 7:00 PM
The New World Symphony, America's Orchestral Academy (NWS), prepares graduates of music programs for leadership roles in professional orchestras and ensembles. In the 33 years since its co-founding by Artistic Director Michael Tilson Thomas and Lin and Ted Arison, NWS has helped launch the careers of more than 1,150 alumni worldwide. A laboratory for the way music is taught, presented and experienced, the New World Symphony consists of young musicians who are granted fellowships lasting up to three years. The fellowship program offers in-depth exposure to traditional and modern repertoire, professional development training and personalized experiences working with leading guest conductors, soloists and visiting faculty. Relationships with these artists are extended through NWS's extensive distance learning via the internet.