The Perfect Turkey Awaits on the Next Cooking with The Galleria Free Virtual Tutorial Series Segment with Chef Elvis Bravo
Tuesday, 11/24/2020-, 02:00 pm-02:30 pm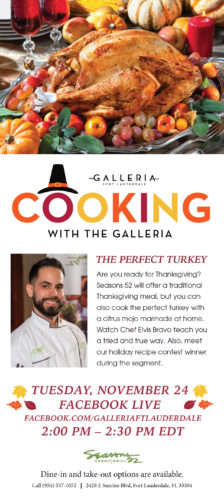 Virtual Location
Cost: Free, Facebook Live Event
The perfect turkey awaits on the next segment of The Galleria at Fort Lauderdale's Cooking with The Galleria free virtual tutorial series with Seasons 52 Chef Elvis Bravo. Join Chef Bravo on Facebook Live, Tuesday, November 24, at 2 p.m., as he provides tips and techniques regarding how to prepare this traditional Thanksgiving favorite with a citrus mojo marinade twist. Also featured on this segment will be the upcoming winner of The Galleria's Taste of the Holidays recipe contest who will prepare his/her special accompanying dish. Viewers are invited to try this entrée at home or dine with Seasons 52 this Thanksgiving on Thursday, November 26, to enjoy a full holiday meal.
This cooking demonstration will be Bravo's 13th appearance to date serving-up delicious dishes online and answering questions during South Florida's COVID-19 quarantine. Past shared recipes have included Caramelized Grilled Sea Scallops, Bone-in, Dry-rubbed Pork Chop, Chilean Sea Bass, Gruyere French Omelette, Deviled Eggs with Caviar and Ciabatta Crostini with Quail Egg, Avocado Toast, Maryland Style Lump Crab Cakes, Preserved Lemon Hummus, Seafood Paella, Roasted Vegetable Gnocchi, Shrimp and Grits, Carne Asada Fajitas and Signature Blackened Mahi Tacos. These archived recorded livestream demonstrations can be found at facebook.com/GalleriaFtLauderdale.
Launched earlier this year on Facebook Live, Cooking with The Galleria has successfully entertained thousands in the local community.
The Galleria at Fort Lauderdale has resumed its normal operating hours of 10 a.m. to 9 p.m., Monday through Saturday and noon to 6 p.m. on Sunday, plus continues to institute additional safety measures complying with government guidelines. Seasons 52, The Capital Grille and P.F. Chang's are offering full-service dining and take-out. Blue Martini is now open. Please visit www.galleriamall-fl.com/current-updates-due-to-covid-19.