– Symphony Sundays: Beethoven's Symphony N. 5 in C Minor, Op. 67
Sunday, 12/06/2020-, 04:00 pm-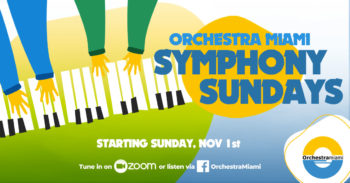 RSVP / Register
Cost: free
Orchestra Miami presents Symphony Sundays: A series of online performances of the 4-hand piano arrangements of the first eight of Beethoven's nine symphonies. Sundays at 4 PM beginning on Nov. 1st. Reserve your ticket for the LIVE Zoom performance by visiting http://bit.ly/omss126 or listen via Orchestra Miami's Facebook Page here: www.facebook.com/OrchestraMiami
Jared Peroune is a Doctor of Musical Arts student in collaborative piano at the University of Miami. Quickly becoming an established collaborative musician, Jared has collaborated with a number of vocalists and instrumentalists throughout South Florida. He has been heard in concerts and recitals throughout Florida, Italy, Ireland and the United Kingdom, and in his hometown of Georgetown, Guyana. Broadening his abilities to other keyboard instruments, Jared recently was featured as harpsichord soloist in a benefit concert at Corpus Christie Church to raise money for a new instrument. In years past, he has been accompanist and continuo organist for Miami Collegium Musicum, a group for which he was also Assistant Conductor, often in collaboration with the Miami Bach Society and the German Consulate. Pianist Paul Schwartz has performed more than 800 recitals in the United States, Canada, and South America. Mr. Schwartz worked at the University of Miami's Frost School of Music for 10 years and in addition to teaching, accompanying, and sight-reading, accompanied three choral ensembles and a variety of performance classes. He is in demand as a collaborative artist for both faculty and students. While in Miami, his collaborators have included Helmuth Rilling, Michael Tilson Thomas, Robert Porco, John Corigliano, Joe Alessi of the NY Philharmonic, Seraphic Fire, Gerry Pagano, Richard King , and Massimo LaRosa, both members of the Cleveland Symphony Orchestra, Richard Todd, Trudy Kane, and Craig Morris, among others. Paul Schwartz is currently the Main Stage rehearsal pianist for Florida Grand Opera and is finishing up his fourth season with them.
To hear this incredible duo perform, reserve your ticket on Zoom by visiting http://bit.ly/omss126 or listen via Orchestra Miami's Facebook Page: www.facebook.com/OrchestraMiami
Happy 250th Birthday Beethoven!