Florida Fitness & Bodybuilding invites you to experience the new look, benefits, and features of our new digital platform. www.floridafitbody.com
Thursday, 10/29/2020-, 06:30 pm-09:00 pm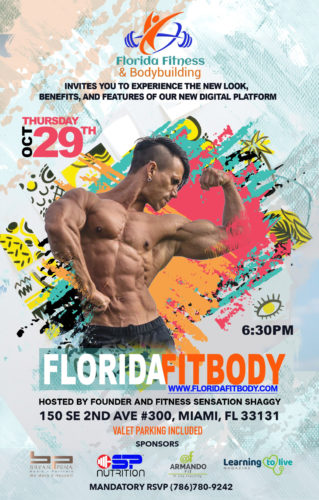 NEXT Smart Workspaces
150 SE 2nd Ave 150 Southeast 2nd Avenue 3rd floor Miami, FL 33131,
Miami, Florida, 33131
Eventbrite
Cost: $0
Requiring social distancing? YES
Requiring masks? YES
Providing hand sanitizer?YES
It's almost time for our digital platform launch of www.floridafitbody.com at NEXT Smart Workspaces in beautiful downtown Miami. Make sure to mark your calendar for Thursday, October 29th, from 6:30PM. to 9:00PM.
In an effort to ensure the safety of all guests, face masks will be required when entering the building and they must be worn during the event at all times.
This launch event will be hosted by founder and fitness sensation Shaggy, a physical health and wellness expert who empowers his clients to practice an active and healthy lifestyle. Check-in begins at 6:00 p.m. promptly you will be invited to come into the venue where you will enjoy sampling and tasting a variety of fitness products.
Attendees will learn about our wellness programs designed towards helping seniors, teenagers and adults achieve their desired physical and fitness goals. We will also be presenting other program offerings, in our new digital platform.
Our Event is generously sponsored by BP Media Partners, SP nutrition, Armando fit, and Learning to Live Magazine.
Parking is included with proof of invitation.
Don't forget to follow us on Instagram and tag us on your pics: @floridafitbody.