Miami Champagne Week
Tuesday, 10/13/2020-, 06:00 pm-07:30 pm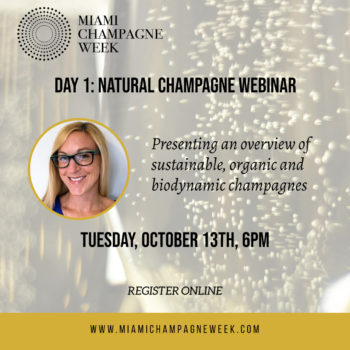 Website
Cost: $15
Miami Champagne Week Day 1: Natural Champagne Webinar
The Natural Approach to Champagne: Challenges and Victories
The term 'Natural Wine' is a broad one and can be used to indicate a wine made with organic, biodynamic or sustainable techniques. Champagne, with its long history and global reputation as a premium wine producing region, arguably has a responsibility to pursue these environmentally-friendly approaches. In fact this idea has taken on increased importance in recent years, with many growers and producers looking to minimize their environmental impacts by controlling the use of unnatural substances, preserving the vineyard ecosystems and terroirs, and taking accountability of water and waste management. In this webinar we will look at the history of natural winemaking in Champagne, the challenges of applying sustainable and organic practices there, and how the efforts being made can impact the region in the future.
Nicole Ramos, WSET Level 3, FWS, SWS will present the Webinar.
We will taste the following champagnes:
-Larmandier-Bernier Longitude 1er Cru Extra Brut Blanc de Blancs, biodynamic
-J. Lassalle 1er Cru Cuvée Preference, sustainable
Date: October 13th, 2020, from 6pm to 7.30pm