Let Caja Caliente's Breakfast Menu Start Your Day Off Right
Tuesday, 09/29/2020-, 08:00 am-11:00 am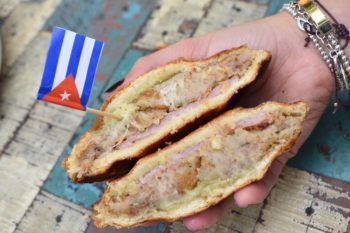 Caja Caliente
808 Ponce De Leon,
Coral Gables, Florida, 33134
Website
Cost:
Requiring social distancing? NO REPLY
Requiring masks? NO REPLY
Providing hand sanitizer?NO REPLY
Caja Caliente, the infamous eatery known for its Original Cuban Tacos and iconic neon Taco sign at its old Wynwood location, is now serving breakfast! Chef Monica "Mika" Leon and her mother, Lupita Estupinan, bring the most important meal of the day to the restaurant's menu serving up tasty eats that will make you feel right at home.
The new breakfast menu serves well-known Cuban breakfast delicacies that brings a whole new meaning to comfort food. From Cafecitos like Café con Leche and Coladas to Los Discos which include flavors such as the traditional "timba" to guava, cheese & bacon or to the crowd favorite Lechon, to Desayuno with a buttery Tostada Cubana alongside a Tortilla Española that can be stuffed with ham & cheese or chorizo. Locals can also enjoy their all-time favorites, the Empanadas with picadillo or guava y queso, and of course their Breakfast Tacos, with scrambled eggs, queso frito, avocado, bacon & pickled red onions.
The breakfast menu is available at its brick and mortar location in Coral Gables with indoor and outdoor dining and delivery via DoorDash, Postmates, and UberEats. Caja Caliente will continue to serve all-time favorites such as the famous Lechon Tacos, Vaca Frita Tacos, Octopus Tacos, Lechón Pulled Pork Sandwich, Cuban Tamal, and their Customizable Bowls, and many more so don't fret starting at noon every day. Locals can also expect surprise menu options from Leon's mom, Lupita.
(PHOTO CREDIT- CAJA CALIENTE)