Miami Citizenship Week Kick-Off, LIVE on Facebook
Friday, 09/11/2020-, 08:30 am-10:30 am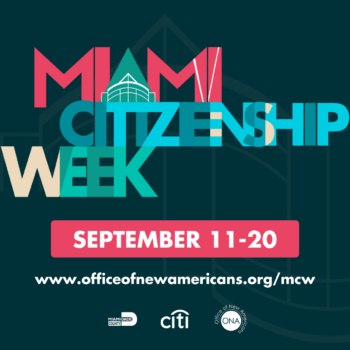 Website
Cost: Free
On September 11th, Miami Citizenship Week kicks off 10 days of virtual events, aiming to highlight the contributions of Miami's thriving immigrant community through storytelling, panel discussions, and relationship-building activities, while also providing naturalization clinics and information on the pathway to citizenship.
Join the Office of New Americans of Miami-Dade (ONA) at 8:30am, #LIVE on Facebook, as Krystina Francois, Executive Director of ONA, will be joined by a local resident sharing the story of their pathway to citizenship. Learn about opportunities, resources, challenges, and all the upcoming events too!
With a theme of Food. Family. Freedom., the community-at-large is invited to celebrate the social and economic contributions of the more than 2 million immigrants in South Florida.
As a part of Miami Citizenship Week, residents are encouraged to support immigrant powered businesses, attend virtual events, learn about those that make Miami so vibrant and diverse, and even try a new recipe from one of the many countries that make up Miami-Dade. Events include discussions with immigrant business owners and local elected officials, virtual brunch, naturalization clinics, food recipe sharing, and more. In partnership with Cities for Citizenship (C4C), this week of happenings is part of a major national initiative of more than 85 participating cities and counties aimed at increasing citizenship among eligible U.S. permanent residents and encouraging investment in citizenship and financial empowerment programs.
Schedule of events
September 11th: Miami Citizenship Week Kick-Off
September 12th, 11am: Immigrant Voices Brunch
September 13th, 3pm: Miami is Home: Immigrant Welcoming Guide
September 14th, 6pm: Tools for Financial Freedom for New Americans
September 15th, 12pm: Immigrants Economic Contributions to Miami Panel
September 15th, 5pm: Leadership Miami Mixology Happy Hour
September 16-19th, 11-4pm: Naturalize Now Miami, Virtual Clinic
September 17th, 6pm: New Americans in Elected Office
September 18th, 7pm: Fete
September 18-20th: Immigrant Powered Weekend
September 20th, 1pm: New American Fund Celebration & Brunch w/ Celebrity Chef Demonstration
To register for events: http://bit.ly/miamicitizenshipweek2020
The Office of New Americans is a countywide initiative to raise awareness about the importance of citizenship. Its mission is to empower immigrants eligible for naturalization to become more civically and economically engaged in our communities by facilitating access to the resources they need to attain citizenship and to prosper.