4th Annual Imagine Miami Luncheon
Wednesday, 09/30/2020-, 12:00 pm-01:00 pm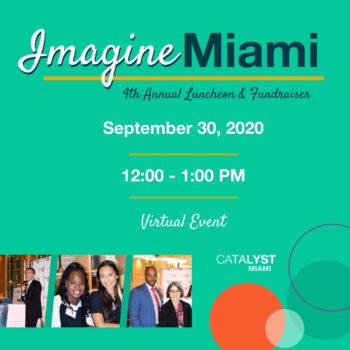 Website
Cost: $25-100
The Imagine Miami Luncheon is Catalyst Miami's annual fundraising luncheon, and one of the most fun events of the year! Typically hosted at a beautiful Miami restaurant with 200 new and old friends, this year's luncheon will take place during a 1-hour virtual event on Wednesday, September 30, 2020 at 12 p.m. During this fundraising event, Nadege Green will be honored with the 2020 Community Catalyst Award. We'll also hear a bolero performance by multi-Grammy winning musician, John Daversa, and have a special guest appearance by actor, climate activist, and three-time Oscar nominee Mark Ruffalo.
The 2020 Community Catalyst Award honoree, Nadege Green, is Director of Community Research and Storytelling at the Community Justice Project. She worked as a journalist in Miami for just over 10 years investigating how local government policies and actions—both historical and contemporary—impact everyday people. Her work centers around using analysis, data and narratives from the directly impacted to address housing inequities, climate justice, gun violence and other pressing issues in Miami-Dade County that disproportionately impact black and brown communities. Green believes in the power of teaching community storytelling as a means to educate, problem-solve and heal. She is a frequent lecturer and speaker in academic and community settings around disparities in Miami-Dade, local history and race. Green is a recipient of the Ruth Shack Leadership Award and the Florida ACLU Gene Miller Voice of Freedom Award. She's also the proud mom of two amazing boys, Noah and Jacob.
Thank you to the following sponsors for all their support in making this year's event a reality: JPMorgan Chase & Co., Weil, BAC Florida Bank, BankUnited, Northern Trust, Bank of America, Dr. Loretta, Alliance Bernstein, Citi, Mary & Tim Casey, DLF Attorneys, Beach Haus, Charmel Maynard, the Jain & Lagoa Foundation at The Miami Foundation, VITAS Healthcare, Capital One, Crabtree & Auslander, Lalchandani Simon PL, Miami Medical Consultants, Jason & April Pizzo, and PICT (Public Interest Computer & Technology). And a special thank you to Miami-based artist Nate Dee, Colony & Comb, Buena Vista Candle Co., Sage & Balm, and BeLoved Box for providing your products to be a part of this year's Care Package, available to all those participating in this year's virtual luncheon.
Your ticket purchase will support our work to provide paths to economic mobility, create community-led change, and more. To learn more about how you can attend, sponsor, or participate in this event, visit: bit.ly/4thImagineMiami