Lecturas Dramatizadas – Pareja abierta
Friday, 08/21/2020-, 07:00 pm-10:00 pm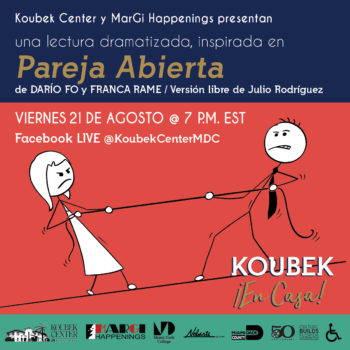 Website
Cost: Free
¿Extraña ir al teatro? ¡Nosotros también! ¿Prefiere obras contemporáneas o los clásicos? Pues ahora puede disfrutar de todas ellas, y lecturas de textos de grandes autores, desde su sofá favorito. En colaboración con MarGi Happenings, el Koubek Center presenta una lectura dramatizada, inspirada en Pareja Abierta el 21 de agosto a las 7 p.m. EST por FB Live: @KoubekCenterMDC. Todas estas lecturas son en español.
Pareja Abierta, una obra escrita por Dario Fo y Franca Rame, plantea en tono de sátira una crítica a la doble moral que existe alrededor del sexo y el matrimonio. Relata la vida de una pareja liberal con una relación abierta, donde el único que disfruta verdaderamente de esa "libertad" es el hombre. Es una obra llena de gags cómicos y situaciones delirantes, que ayudan a suavizar la trama, pero que muestra, a la vez, la realidad de un mundo que sigue siendo predominantemente machista.
Gracias al apoyo del Departamento de Asuntos Culturales del Condado de Miami-Dade y del Estado de la Florida. Este evento es accesible para todos y no es apto para menores. Si necesita solicitar alguna información, comuníquese con el Koubek Center: 305.237.7750.
Do you miss going to the theater? Us, too! Do you prefer contemporary works or classics? Well, now you can enjoy all of them, and readings of texts by great authors, from your favorite couch. In collaboration with MarGi Happenings, the Koubek Center presents a reading inspired by Pareja Abierta on August 21 at 7 p.m. EST on FB Live: @KoubekCenterMDC. All readings are in Spanish.
Pareja Abierta, by Dario Fo and Franca Rame, is a play that offers a satirical critique to the double standards on sex and marriage. It tells the story of a liberal couple with an open relationship, in which the only one truly enjoying the "freedom" is the man. Full of comical skits and delirious situations that ease addressing the subject matter, the play shows, at the same time, the reality of a world that predominantly remains male-dominated.
Thanks to the support of the Cultural Affairs Department of Miami-Dade County and the State of Florida. This event is accessible to everyone and is not recommended for a young audience. If you need to request any information, please contact the Koubek Center: 305.237.7750.