Duckhorn Wine Pairing Dinner at Casa D'Angelo Fort Lauderdale
Thursday, 08/27/2020-, 06:30 pm-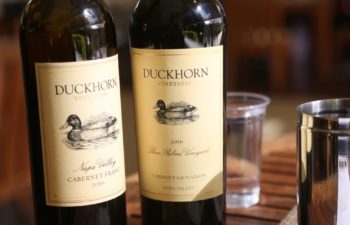 Casa D'Angelo
1201 N. Federal Hwy.,
Fort Lauderdale, Florida, 33304
Website
Cost:
Requiring social distancing? YES
Requiring masks? YES
Providing hand sanitizer?YES
Thursday, August 27th, 2020 from 6:30PM – 10PM
Casa D'Angelo, owned and operated by nationally acclaimed Chef Angelo Elia, is pleased to invite guests to enjoy an exquisite 4-course Wine Pairing Dinner featuring wines from Duckhorn Vineyards, a premier producer of Bordeaux varietal wines.
Co-founded by Dan and Margaret Duckhorn in 1976, Duckhorn Vineyards has spent more than 30 years establishing itself as one of North America's premier producers of Bordeaux varietal wines. Duckhorn Vineyards has crafted a tradition of quality and excellence that continues today.
MENU
Scallop & Porcini Ragout over Smoked Mozzarella Crostini
Mascarpone & Walnut Stuffed Sundried Figs
Paired with Duckhorn, Napa Valley Sauvignon Blanc 2018

Bison Tartar & Roasted Bone Marrow, Dijonnaise & Saba Balsamic<br />
Paired with Calera 'Ryan's Vineyard' Mt. Harlan Pinot Noir 2016


House-made Fat Spaghetti with Tuscan Pecorino
Black Pepper over Tear Drop Tomato & Thyme Sauce
Paired with Duckhorn, Napa Valley Merlot 2017

Wood Oven Roasted Creekstone NY Strip<br />
Caramelized Pearl Onions, Red Wine & Juniper Berry Sauce<br />
Paired with Duckhorn, Napa Valley Cabernet Sauvignon 2017


Dark Chocolate Tart, Chilled Walnut Sabayon
Paired with Paraduxx, Napa Valley Proprietary Red 2017
$125/person plus tax and gratuity. Space is very limited. Reservations required.
Kindly RSVP to Casa D'Angelo by calling 954.564.1234
Casa D'Angelo
1201 N. Federal Hwy.
Fort Lauderdale, Fl 33304
https://www.casa-d-angelo.com/