Phuc Yea Celebrates National Oyster Day With A Delicious Menu!
Wednesday, 08/05/2020-, 05:00 pm-10:00 pm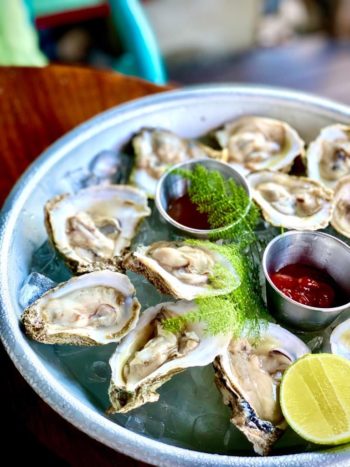 Phuc Yea
7100 BISCAYNE BOULEVARD,
Miami, Florida, 33138
Website
Cost:
Requiring social distancing? NO REPLY
Requiring masks? NO REPLY
Providing hand sanitizer?NO REPLY
Oyster lovers rejoice! National Oyster day is here and PHUC YEA is truly allowing everyone to "Make the world your oyster" as guests choose their oyster journey. Whether guests care for Classic Fresh Oysters char-grilled oysters fried oysters or even oyster shooters Ani Meinhold and Chef Cesar Zapata have created something for all indulge on:
Oyster Shooters (only available August 5th)
● Crouching Tiger cucumber cilantro cucumber vodka green chartreuse lime sesame salt oyster ($8.00 each)
● Hidden Dragon pineapple bird chili lime pineapple shrub thai basil espolon blanco tequila tajin spice oyster ($8.00 each)
Oyster Menu (only available August 5th)
● Char-Grilled Oysters – lemongrass butter lemongrass crumbs parmesan lime cajun – $15 for 4
● Buffalo Style Oyster Poppers – crispy fried oysters sriracha buffalo sauce pickled celery blue cheese crema – $16 for 6
● Fresh Oysters on the Half Shell with Classic House Sauces
○ Bourbon Cocktail Sauce horseradish garlic bourbon sriracha
○ Lemongrass Mignotte rice wine vinegar black pepper lemongrass ginger
■ $1 for East Coast oysters – 5-7pm
■ $2 for West Coast oysters – 5-7pm
■ 7-10pm – $12 for East Coast per half dozen
■ 7-10pm – $15 for East Coast per half dozen
The Oyster experience doesn't end on National Oyster day PHUC YEA has a weekly Oyster Special! If a dolla makes you holla you'll love Phuc Yea's $1 East Coast Oysters. Are West Coast Oysters more your vibe? You can get them for $2. Enjoy this mouth-watering special at their lantern garden or front porch patio from Thursday – Saturday from 5 PM – 7 PM or ALL DAY Sunday for Phuc Yea's $1 Oyster Brunch!
Phuc Yea offers a selection of shareable plates that capture the soulfulness and passion behind family-rooted recipes the restaurant is inspired by Aniece Meinhold's Vietnamese heritage and Cesar Zapata's Third Coast culinary roots. Under one roof guests are invited to marvel at Biscayne's blossoming Mimo district; embrace '90s hip-hop street-cool music; and enjoy Cesar's version of Viet-Cajun cuisine at their renovated lantern garden and front porch patio.
(Photo Credit- Phuc Yea)