"What is a virtual expo?" Panel Webinar
Tuesday, 08/11/2020-, 07:00 pm-08:30 pm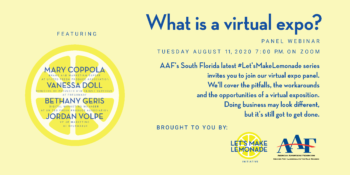 RSVP / Register
Cost: Free
As the traditional expo moves to a virtual format, shaking hands and handing out samples might be moot, but connecting is more important than ever. With our panel of four industry gurus, we'll discuss how we're adapting and optimizing as our already ever-changing industry does a complete 180.
Let's meet the panel:
Mary Coppola, MBA, has nearly two decades of experience developing and supporting brands as a design and marketing professional. As the vice president of marketing & communications for the United Fresh Produce Association, Mary leads the association's digital marketing team, responsible for developing resources that allow the industry to advance their own brand marketing strategies through the signature event BrandStorm™ as well as quarterly trends research, webinars and more. In collaboration with her association peers, United Fresh launched United Fresh LIVE!, the global fresh produce industry's first virtual conference and trade show just nine week after making the decision to pivot from an in-person event.
As a strategic and creative leader, Vanessa Doll helps spearhead growth for CPG clients, big and small. She came to Freshmade by way of LPK in Cincinnati, where she spent 7 years as senior project manager on P&G brands, such as Always, Pampers, and Vicks. She also led client services for Coty Beauty, helping brands like Wella and Clairol and worked on Pringles, Kellogg's, and Anheuser-Busch. Between her dual master's degree in Writing Theory and Pedagogy from DePaul University and experiences as a sailboat racer and bar owner, Vanessa brings well-rounded intelligence and determination to everything she does.
Bethany Geris is the digital marketing manager for the United Fresh Produce Association and the virtual platform rockstar of United Fresh LIVE! – the global fresh produce industry's first virtual conference and trade show. Bethany works to advance the association through her digital marketing expertise. This June, she was responsible for working with more than 200 exhibitors helping them make the technical transition from an in-person event to a virtual show, with much success! With just under 5 years at United Fresh, she has enshrined her status as the go-to digital ace.
Jordan Volpe is the VP of Marketing at OpenWater, a B2B software company helping organizations bring their virtual events to life. After starting off in sales at OpenWater, he was tasked with building out the demand generation and events marketing teams. His main focus now is OpenWater's overall marketing strategy and partnerships.
About Let's Make Lemonade:
The American Advertising Federation of Greater Fort Lauderdale and the Palm Beaches launched Let's Make Lemonade as a call to area businesses to pause, stop reacting and contact their agency partners to make a plan for recovery.
The initiative's second objective is to better prepare our members and our industry to bounce back from recession by addressing skills and knowledge gaps in new or misunderstood areas of marketing.
Learn more and watch our previous sessions at aafsfl.org/lemonade.