On Wednesday! Jaguar LAB Live Stream!
Wednesday, 07/22/2020-, 05:30 pm-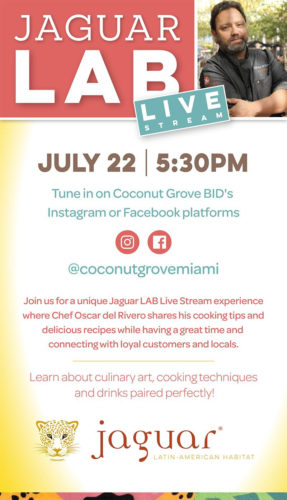 Jaguar Restaurant | Latin-American Habitat
3067 Grand Avenue Coconut Grove, FL 33133,
Miami, Florida, 33133
Website
Cost:
Requiring social distancing? NO REPLY
Requiring masks? NO REPLY
Providing hand sanitizer?NO REPLY
Join us for a unique Jaguar Lab experience as we Live Stream Chef Oscar del Rivero sharing his cooking tips and delicious recipes while having a great time and connecting with loyal customers and locals.
Tune in on Coconut Grove BID's Instagram or Facebook platforms as we learn about culinary art, cooking techniques and drinks that pair perfectly!
(Photo Credit – Jaguar Restaurant)