Outdoor "Hora Jaguar" Happy Hour
Wednesday, 07/08/2020-, 03:00 pm-06:00 pm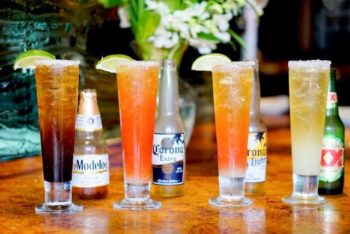 Jaguar Restaurant
3067 Grand Avenue Coconut Grove,
Miami, Florida, 33133
Website
Cost:
Requiring social distancing? NO REPLY
Requiring masks? NO REPLY
Providing hand sanitizer?NO REPLY
Are you over the virtual happy hours? Jaguar Restaurant re-launched their known Happy Hour now called "Hora Jaguar" at their Jungle Habitat! It's your perfect spot to hang out outdoors and unwind where you'll find specialty cocktails for only $6 such as Caipirinha, Mojitos, Besos de Fresa and Mule Fresa.
You go to Jaguar Restaurant for your favorite Margaritas! Don't you? You can also enjoy during happy hour flavourful wells mix drinks like Flor de Caña (rum), New Amsterdam (Vodka and Gin), Jimador Silver (tequila), among others for only $6 as well. If you are a wino you'll have access to their house wine selection for only $5 a glass, or if you are the one looking for a cold refreshing beer you can choose from their beer list at $4. A bite is always welcome while drinking; you can choose your favorite bar bites for only $5 each (Three Cheese Quesadillas, Popcorn Shrimp Bites, Mini Cheeseburger, Half Portion Guac, Ceviche Tostadas).
For those who take their Happy Hour at home to the next level Jaguar Restaurant has their homemade Sangria ($8.50 | $15) and Margarita ($11 | $20) half and full pitchers available, the half pitchers serving 2- 3 glasses and the full pitcher serving 4 – 5 glasses.
Ladies! They did not forget about your night; they will have Cava Thursdays for Ladies Night at $2 the glass every Thursday from 4pm to close.
Aside from the food and drinks Jaguar Restaurant is a fantastic spot for a low-key Happy Hour. Feel comfortable dining outdoors at Jaguar Restaurant, they are keeping cleanliness as a priority and following all safety regulations.
"Hora Jaguar" Happy Hour | Monday – Friday 3:00 PM – 6:00 PM
(Photo Credit – Jaguar Restaurant)