COLLABORATE Live Virtual Event
Thursday, 07/09/2020-, 09:00 am-06:00 pm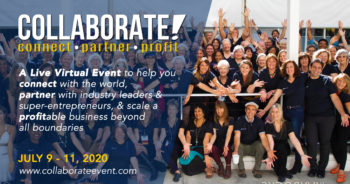 Website
Cost: US$27
Join us at a new live virtual event called COLLABORATE on July 9 to 11. Collaborate is a cutting-edge, results-oriented event created by the amazing event team at JV Insider Circle (JVIC), who also brought you the annual JV Experience(JVX) Summit, which is the world's #1 joint venture summit.
See full event details, read the many testimonials and register at: http://collaborateevent.com/july2020
This inaugural 3-day live online event will connect you with hundreds of top coaches, entrepreneurs, authors, speakers, program leaders & owners of podcasts, radio shows, and other live or virtual events, who are all interested in promoting your products & programs.
You will also have the opportunity to:
• Join the many Networking Circles and meet industry leaders & influencers from around the world
• Get feedback and hone your pitches in front of small groups and live coaches
• Have your products promoted by top players at the fun and exciting JV Shark Attack session
• Learn valuable knowledge and proven practical tools from guest speakers
• Get one-on-one coaching help to find more collaborating partners to promote your products & programs
• And much, much more…
Don't miss being the 1st cohort of this supercharged event!
Register now at: http://collaborateevent.com/july2020