Phuc Yea's Father's Day Plans
Sunday, 06/21/2020-, 12:00 pm-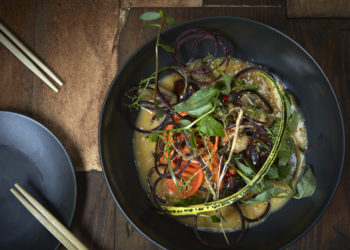 Phuc Yea
7100 Biscayne Blvd,
Miami, Florida, 33138
Website
Cost:
Requiring social distancing? NO REPLY
Requiring masks? NO REPLY
Providing hand sanitizer?NO REPLY
Dad deserves a day off and Phuc Yea is cooking up something just for him. Miami's favorite Vietnamese-Cajun restaurant will be smoking pork shanks, giving dads all the BBQ feels but with a twist. Chef Cesar Zapata, will feature a special Vietnamese-Cajun "Al Pastor Taco" made with PHO spice, pineapple, house pickles, onions, fresh herbs, viet salsa roja served with tortillas, only available this Sunday for Father's Day.
Additionally, Phuc Yea is relaunching their swanky Lantern Garden! The garden is a one-of-a-kind oasis, filled with greenery, adorned by vibrant red lanterns. The Lantern Garden will be available for all to enjoy on Father's Day weekend. Phuc Yea, recently launched their porch seating perfect to dine al fresco, overlooking Biscayne Blvd, in a cozy setting and the perfect way to kick off the first weekend of Summer. Craving some eclectic Phuc Yea vibes indoors, those are available as well, with their spaced out dining room. No matter where Dad sits, Phuc Yea will sure make his day extra special.
(Photo Credit – Phuc Yea)