Cooking with The Galleria – Seasons 52 Chef Elvis Bravo on Facebook Live
Tuesday, 05/26/2020 – 02:00 pm – 03:00 pm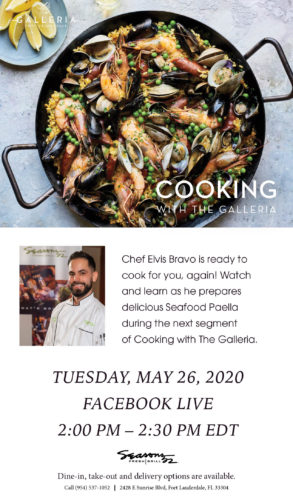 Online – Facebook Live
Florida
Facebook
Cost: Free
At-home chefs and foodies rejoice as Seasons 52 Chef Elvis Bravo returns to Facebook Live on Tuesday, May 26, at 2 p.m., for his next installment in The Galleria at Fort Lauderdale's free virtual cooking tutorial series, Cooking with The Galleria. Bravo will livestream and prepare Seafood Paella, a perennial South Florida favorite.
This cooking demonstration will be Bravo's fourth appearance to date serving-up delicious dishes online and answering questions during South Florida's COVID-19 quarantine. Past shared recipes have included Roasted Vegetable Gnocchi, Shrimp and Grits and Carne Asada Fajitas and Signature Blackened Mahi Tacos paired with homemade guacamole, rice and beans. These archived recorded livestream demonstrations can be found at facebook.com/GalleriaFtLauderdale.
Launched in April on Facebook Live, Cooking with The Galleria has successfully entertained thousands in the local community.
The Galleria at Fort Lauderdale is welcoming shoppers back with limited hours and additional safety measures according to government guidelines. Seasons 52 and The Capital Grille now offer full-service dining in addition to take-out and delivery service. P.F. Chang's continues to offer take-out and delivery service and will resume full-service dining on May 27. Please visit www.galleriamall-fl.com/current-updates-due-to-covid-19 for additional details.
For additional upcoming virtual events and information about The Galleria at Fort Lauderdale, please visit facebook.com/GalleriaFtLauderdale. Patrons may also call (954) 564-1036 or visit www.galleriamall-fl.com.
About The Galleria at Fort Lauderdale
The Galleria at Fort Lauderdale, recognized as one of South Florida's premier shopping destinations, is the largest and most upscale regional mall in Broward County. Macy's, Dillard's and Neiman Marcus anchor the popular center, which also features known stores, including Altar'd State, American Eagle Outfitters, Apple, Ann Taylor, Banana Republic, Free People, J. Crew, Michael Kors, Pandora and Fort Lauderdale's first H&M. It is also home to Powerhouse Gym and a fine roster of dining establishments such as Seasons 52, The Capital Grille, P.F. Chang's, Blue Martini and Cooper's Hawk Winery & Restaurants. Just steps away from Fort Lauderdale's world-famous beach, it is minutes from the airport, port, downtown, hotels and the Greater Fort Lauderdale Convention Center with easy access from Sunrise Boulevard, U.S. Highway 1 (Federal Highway), Interstate 95, Interstate 595, and U.S. Highway A1A (Fort Lauderdale Beach Boulevard). Located at 2414 East Sunrise Blvd., it is currently open from 11 a.m. to 7 p.m., Monday through Saturday and from noon to 6 p.m. on Sunday. Restaurants enjoy later hours. More information is available by calling (954) 564-1036 or at www.galleriamall-fl.com.