Add Some Meat To Your Monday Nights With Phuc Yea!
Monday, 05/11/2020 – 07/28/2020 04:00 pm – 09:00 pm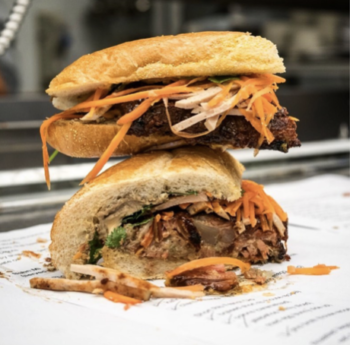 Phuc Yea
7100 Biscayne Blvd, Miami, FL 33138
Miami Florida 33138
Website
Cost:
If house-made pickles and garlic butter toasted buns make you drool, Phuc Yea's new Chicken Banh Mi is for you! Phuc Yea launches their new special: Chicken Banh Mi Dinner, served every Monday, and is a new addition to their current online menu. Owners Ani Meinhold and Cesar Zapata (Owner and chef) have been cooking up different plates and everyday specials for all. This Monday night special includes Lemongrass Chicken Banh Mi, sriracha aioli, herbage, house-made pickles, lettuce, and a garlic butter toasted bun. PLUS: dried shrimp, peanuts, herbage, crispy shallot, Kitchen Sink Cookies, Chocolate chunk cookies, pretzels, Reese's PB cups, chocolate drizzle for $25.
Chicken Banh Mi Dinner is available every Monday at Phuc Yea from 4:00 pm – 9:00 pm.
Phuc Yea offers a selection of shareable plates that capture the soulfulness and passion behind family-rooted recipes, the restaurant is inspired by Aniece Meinhold's Vietnamese heritage and Cesar Zapata's Third Coast culinary roots. Under one roof, guests are invited to marvel at Biscayne's blossoming Mimo district; embrace '90s hip-hop, street-cool music; and enjoy Cesar's version of Viet-Cajun cuisine.
Locals can order online via their website: www.phucyea.com or via delivery apps like Grub Hub, Postmates, and Door Dash. They are offering locals a discount when they order directly through their website, for pickup or delivery using promo code CORONA granting customers 10% OFF their order. Phuc Yea is delivering for FREE to Mimo. They have also expanded their delivery footprint to provide their delicious food to more members of the community, they are now delivering to Brickell, Miami Shores, Normandy Isle, and 71st on Miami Beach, guests must place these order online or via phone (305) 602-3710. Miami Beach customers will also have the chance to get Phuc Yea deliveries their order must exceed $75.00. Curbside pick up is also available for locals who want to avoid the delivery fee. Phuc Yea has in-house delivery staff ready to service the community. For more information visit www.phucyea.com or call (305) 602-3710 and follow them on social media @PhucYea.