Guitars Over Guns Instagram LIVE! Showcase
Wednesday, 04/22/2020 – 08:30 pm – 09:30 pm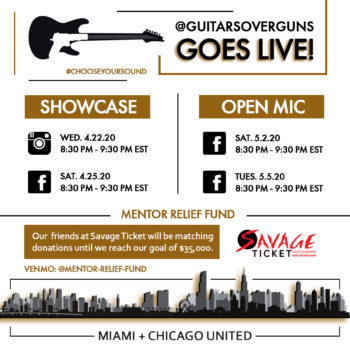 Instagram Live
https://bit.ly/GOGOShowcaseIG
Florida
Website
Cost: Free
For the first time ever, Guitars Over Guns is hosting a cross-city showcase from Chicago and Miami on Instagram LIVE! Enjoy good music for a great cause. The showcase will feature several of our talented mentors, singing original tunes and covers, in a diverse range of genres. Follow us on social media for performer and restaurant partner announcements.
Guitars Over Guns Goes LIVE! doubles-up as a Mentor Relief Fund. Join us in raising $35,000 as we look towards providing a stipend of at least $500 to every one of our mentors, in addition to their regular income which we have continued to provide them with, through the end of each city's school year.
Take part in supporting our mentors during these challenging times, as these live streaming events provide us a platform to generate funds for our Mentor Relief Fund. Many of our mentors lost their regular jobs, gigs, work contracts, and other income opportunities. Protecting their income is a statement of our values and our shared dedication to our students and our community.
Maybe it's a rent payment, food on the table, a medical expense, or a way to support a family in need. We want to offer our mentors a sense of security and a token of gratitude while they continue to serve our students and our community with dedication, passion and resilience.
Tune in for an incredibly fun performance LIVE on Instagram this Wednesday, April 22 at 8:30 p.m. EST: https://bit.ly/GOGOShowcaseIG.
Set a reminder and learn how you can support our mentors by donating today: https://bit.ly/MentorReliefFund.